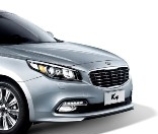 DAILY - UPDATED
KIA NEWS
&
SPY SHOTS
REVIEWS
SALES REPORTS

New Kia K4 Launched In China: Dimensions, Engine Specs, Features
The global premiere of the all-new Kia K4 sedan took place at the 2014 Chengdu Motor Show in China.
This is a vehicle that Kia only plans to release in the Chinese market, and which was very much designed with the Chinese consumer in mind.
The new design is bold yet elegant, and features bold line that seem to point to the now trademark tiger nose grille.
The new K4 is a great choice for those looking for an urban vehicle that delivers a wide variety of technology features.
The exterior features a perfect harmony of curves and straight lines, while the interior is all about comfort and room to move.
Kia K4 Dimensions
The K4 is 4.7-meters long and boasts a wheelbase that measure in at 2,770 mm. This makes it the longest vehicle in the segment.
Its height (1,465 mm) and width (1,815 mm) make it so that there is plenty of space for people in the front and back of the car.
When it launches, the K4 will come with a pair of naturally aspirated, lightweight Nu gasoline engines.
Engine Range
The 1.8- and 2.0-liter engines will deliver great fuel economy and will have NVH characteristic that will make for a smooth, quiet ride.
The 1-8-liter variant delivers 143ps and 176 Nm of torque, while the 2.0-liter engine takes those numbers up to 155 ps and 192 Nm.
Bothe engines will be mated to a 6-speed automatic transmission.
BRAND-NEW: 1,6L Turbo Unit With 7-Speed Dual Clutch Gearbox
A little deeper into the lifecycle, the K4 will be offered with a powerful 1.6-liter turbo T-GDI gas engine that will deliver 176 ps and 265 Nm.
That engine will be mated to a 7-speed dual clutch transmission (a first for Kia) that will deliver better performance and improved handling.
Convenience Features
Comfort and convenience features are numerous in the new K4, with the likes of a heated steering wheel, rear air ventilation, heated seats in front and back, smart key, a TFT-LCD instrument cluster, and a telematics system included as standard.
The K4 also takes safety very seriously, with features such as Vehicle Stability Management, six airbags, and Tire Pressure Monitoring all present.
The body shell of the K4 is made from 50% ultra-high strength steel to ensure increased safety levels and a C-NAP five-star safety rating.
China Exclusive Kia Model
The new vehicle is exclusive to the Chines market and has been designed and built with the residents of that country in mind.
The finished products shows the fruits of the labor of the decade long joint venture that Kia has had with Dongfeng Yueda Kia.
The Chinese media and public reacted well when they first saw the K4 at the 2014 Beijing Auto Show in April.
The compact segment in China will have the bar raised when the K4 4-door sedan is released, as it boasts premium quality that is sure to go a long way to improving brand image.
Chinese customers will now have a lot more to choose from, and Kia will have enriched their line-up across the country.