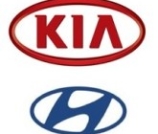 DAILY - UPDATED
KIA NEWS
&
SPY SHOTS
REVIEWS
SALES REPORTS

Kia, Hyundai Post Record Monthly Sales In China
Automobile sales in China showed surprising strength during the first month of 2013 with both South Korean carmakers – Kia Motors and Hyundai Motor Company – reporting strong gains.
Monthly sales of Beijing Hyundai Motor Co. and Dongfeng Yueda Kia Motor Co. rose 66,4 percent to 163,090 units compared with the same month a year earlier. The total number breaks down to 107,888 units for Hyundai and 55,202 units for Kia!
Hyundai is off to a strong start in China this year thanks to the rising popularity of new models such as the all-new Langdong subcompact sedan, Verna sub-compact car and Santa Fe SUV.
Hyundai Langdong, known also as Elantra in the United States, and Verna (known as Accent in the USA) were the carmaker's top performing models with 22,177 and 25,684 units sold, respectively. They were followed by the Santa Fe SUV with 8,427 units sold.
Coming off a record 2012, Kia is showing no signs of slowing down for 2013 either. The South Korean second largest automaker sold 15,028 units of the Rio-based K2 sub-compact car and 12,741 units of the K3 compact sedan.
With 5,367 units being sold during the month of January 2013, the Optima-based Kia K5 midsize sedan also performed well.
The Hyundai-Kia Automotive group plans to sell 1.47 million vehicles in China this year, up more than 10 percent compared to a year ago!
Related Kia news: Kia US sales January 2013