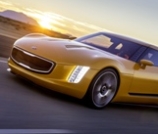 DAILY - UPDATED
KIA NEWS
&
SPY SHOTS
REVIEWS
SALES REPORTS

Pictures Of Kia GT4 Stinger Coupe
Here are the first official photos of the Kia GT4 Stinger concept car!

Following several speculations and teaser images, the all-new Kia GT4 Stinger coupe has finally made an appearance through these leaked official images.
Set to make its official public debut in Detroit later today, the all-new Kia GT4 Stinger sits on a RWD platform and features a 315-horsepower 2,0L turbocharged 4-cylinder engine.
The highly-potent 2,0L T-GDI turbo 4-cylinder engine is mated to a close-ratio 6-speed manual transmission that sends the power to rear wheels!
Wrapped into the "Ignition Yellow" body paint, the carmaker's latest design study also incorporates a set of futuristic front LED headlights, carbon inserts and stylish 5-spoke alloy wheels.
At this point, we would like to congratulate the guys over at Kia for bringing such a beautiful concept car to life!
Hopefully, it makes it to serial mass production soon.
A GT4 Stinger production model would certainly make an interesting rival for the popular Toyota GT86!
Kia GT4 Stinger pictures
Find full details, including the GT4 Stinger specs, dimensions and color here.
Kia GT4 Stinger specs
Kia GT4 rides on tires with the size of 235/35R-20 up front and 275/35R-20 at rear
SIzewise, the GT4 dimensions are: length 169.7 inches (4,310mm), width 74,4 inches (1,890 mm) and height 49,2 inches (1,250mm)
Weight of the Kia sports coupe concept is 1,304 kg (2,874 pounds)
Exterior color: Ignition Yellow
Engine: 2,0L T-GDI packing 315-horsepower
At this point there are no reports about the Kia Stinger GT launch, but we will keep you Kia fans updated, so stay tuned!