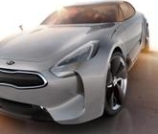 DAILY - UPDATED
KIA NEWS
&
SPY SHOTS
REVIEWS
SALES REPORTS

2017 Kia GT Sedan Release Date: USA, Canada, Europe
Latest news about Kia GT sedan (Jan. 2017 update):
The wait is over, folks!
Kia has finally unveiled the new GT sedan, called Stinger.
It has a beautifully designed exterior, as well as classy interior lay out.
Under the hood of the Kia GT sports sedan, there are two engine options, the 255-horsepower 2,0L turbo engine and a 365-horsepower turbo V6.
The new sports sedan from Kia comes with standard rear-wheel-drive, but it's also available with an optional AWD!
2017 Kia GT release dates
US release date: January 2017 at the Detroit Motor Show
Release date in Europe: March 2017 at the Geneva Motor Show
GT release date in Canada: first half of 2017 (not confirmed yet)
We will update you on the Kia GT 2017 pricing and US dealership arrival date as soon as that info gets online.
GT sports sedan from Kia
The official Kia GT release date has yet to be announced, but sources close to the automaker suggest that the stunning Kia RWD sports sedan concept will finally be brought to production!
If you take a look at the beautiful designs of Kia vehicles on the road today, you would have to agree that luring head designer Peter Schreyer away from Audi was a great decision.
Of all those great Kia designs, though, the GT sports sedan concept may be the most captivating.
The aggressive, low-riding beast first appeared at the Frankfurt Auto Show back in 2011, riding on the same platform as the K900 luxury car.
You read here earlier this year that this concept car would be a production reality within 2 years, and it now looks as though the Kia GT will hit showrooms in 2017.
The belief is that the upcoming Kia GT 2018 (model year) will likely come on a rear-wheel drive platform.
It would make sense to stick with the rear-wheel option, especially since the alternative might not be so agreeable with the proportions of the Kia GT.
The production-ready Kia GT would likely incorporate the carmaker's first 3.3L twin-turbocharged V6 engine (generating between 350-400 horsepower).
It is also very likely that Kia would introduce several less potent variants of the GT sedan including a model powered by a turbocharged four-cylinder engine, as well as the model with alternative powertrain, such as a diesel or hybrid.
When asked to comment, Kia remained coy about a production model of the GT.
What they did say, though, was that they believed that some of the previous concept cars would indeed become a reality, and that a sporty model was at the top of the must have's for the Kia Motors brand.
Video of the sporty Kia sedan prototype
Find more news about Kia GT (Stinger) by browsing through our news pages at the blog.