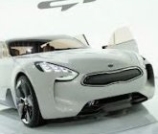 DAILY - UPDATED
KIA NEWS
&
SPY SHOTS
REVIEWS
SALES REPORTS

Kia GT Sedan And Provo May Go On Sale
There has been a lot of talk about the possibility of Kia's Provo and GT concepts going into production.
And it now seems a real possibility if you believe comments made by Kia's VP of Marketing & Product Planning.
The GT Concept going into production always seemed likely after its positive reception at the Frankfurt Motor Show in 2011.
In a recent interview, Benny Oeyen said that approval for production is very close. That said, he also mention that it would only get the green light if Kia became certain that doing so would make financial sense.
If that does happen, the new GT 4-door coupe would represent something of a radical departure for Kia.
The car would likely end up competing with the likes of the Passat CC and the Mercedes CLS.
That would very much be an ambitious move, but one that is sure to create excitement, thanks to the rear-wheel-drive platform and a 390-horsepower 3,3L turbocharged V6 engine featured on the concept.
The hope is that Kia will not water things down too much for a production model.
The fact that Kia would hope to be able to raise their brand name and compete with vehicle's produced by prestige manufacturers suggest that they would not change much from what was shown in the concept model.
Kia Provo Release?
Kia doesn't only have its eye on the prestige segment of the market, though.
The success of the new pro_cee'd GT has Kia already thinking about making a production version of the Provo concept that made an appearance at the Geneva show earlier this month.
The talk about the Provo coupe is that it might lose the mischievous front end that appeared in the concept.
The goal of a production version would be to challenge the Mini hatch in the small coupe segment.
The feeling is that if Kia decides to stick with the 1,6L T-GDI turbo that is used on the pro_cee'd GT, they could create a real rival for the Mini John Cooper Works.
The one thing that might need to change is the Provo name, which actually sparked something of a firestorm with the British media.