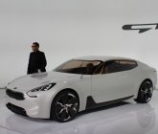 DAILY - UPDATED
KIA NEWS
&
SPY SHOTS
REVIEWS
SALES REPORTS

Kia GT Sedan Production To Start In 2017
The covers are off, as the third teaser video of the upcoming new Kia model shows some exterior shots.
The previous videos showed that the vehicle would be able to hit 100 kmh in just 5.1 seconds, and that the top speed would be 244kmh.
The third video is short, but it may well be the most revealing one yet.
The vehicle we see is most likely the top of the range, judging by the addition of quad exhaust tips, dual vents on the bulging hood, a lowered sports suspension, LED lights in front and back, as well as what looks like 19-inch alloy wheels.
While we already knew that a more practical liftback would feature on the new production model, it also appears that there will also be a rear spoiler in place.
Kia GT teaser video
The vehicle shown in this video will almost certainly be the one sporting the GT badge, and we can probably expect that it will have the 3.3-liter V6 turbo used in the Genesis line-up.
The engine used in the G90 cranks out 365-hp, but there is always the chance that Kia engineers may have tweaked things a little for this sporty model.
This model will be offered as a RWD, but there are sure to be some versions that come with an optional AWD setup.
Models further down the range will have a variety of 4-cylinder engines to choose from, including a diesel variant for the Euro-spec model.
It's unclear yet whether the vehicle will be strictly automatic, or whether a manual transmission may also be offered as an option.
These questions will all be answered in early January when the car arrives at the North American International Auto Show in Detroit.
We can expect another teaser video before that happens, and we expect that will land next week.