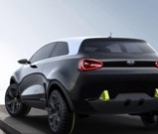 DAILY - UPDATED
KIA NEWS
&
SPY SHOTS
REVIEWS
SALES REPORTS

Average Fuel Economy Of Kia Vehicles To Rise 25% By 2020
In terms of fuel efficiency, Hyundai and Kia automobiles rank somewhere near top in each vehicle segment.
But that hasn't stopped the Korean automakers to think about their further improvements in this area and setting even more ambitious goals.
The Koreans have set the goal to become the leading force in fuel economy before 2020 rolls around and they have recently released a plan that shows the way how this is going to be achieved.
Known as the "2020 mileage improvement roadmap," Kia's blueprint includes the development of their, and Hyundai's, powertrain lineup, which will include a number of zero emission options.
There are three distinct areas that will be tackled once the "2020 mileage improvement roadmap" is followed.
Those include:
Addition of smaller displacement gasoline and diesel engines, all of which will feature GDI and turbo technology
Reduction in vehicle weight
The release of new hybrid models, as well as plug-in cars, all-electric, and hydrogen fuel cell vehicles.
Next generation engines, transmissions
As far as the replacement of the current engine lineup goes, Kia expects to replace 70% of them by 2020.
Over the next few years, they will begin to introduce new smaller turbocharged gas and diesel engines into the mix, with that change resulting in an increase in the fuel economy of gas models by about 11-13%.
The diesel models will see fuel efficiency increase by around 16-18%.
The company will also apply new transmissions, such as the 7-speed DCT, across a large range of compact cars and large sedans.
Weight Reduction
Both Hyundai and Kia are committed to using high strength steel in their vehicles, as it is a much lighter alternative to regular steel.
At this current time, the automakers are using about 52% high strength steel in construction. That should rise to 62% by 2020.
The main goal of using light-weight materials is to reduce the weight of all vehicles by an average of 5%.
That means that a vehicle that currently weighs 1,500 kg would shed around 75 kg after the changes.
Next Generation EVs, Plug-In Hybrid Cars, FCEVs
Hyundai and Kia are working hard behind the scenes to introduce a whole new batch of eco-friendly models.
Hyundai:
Hyundai has already made a name for themselves in the fuel cell technology market with the Tucson FCEV, which is available in the USA and Europe.
The company is looking to expand on that by growing their hybrid lineup.
Reports suggest the automaker is already working on a stand-alone hybrid vehicle that they think will challenge the Toyota Prius.
They will also be delivering a brand new Sonata hybrid, as well as a plug-in hybrid model of that vehicle in 2015.
Another rumor coming out of Korea suggests that Hyundai is also developing an all-electric compact sedan for release in 2016.
Word is that the range will be close to 125 miles, with the vehicle riding on the same platform as the next-generation Elantra.
Kia:
Kia's plans include introducing a new hybrid and plug-in hybrid version of the Optima Sedan, also set to arrive in 2015.
The next 2 or 3 years should see a small crossover hybrid model launched in the USA and Europe, as well as an upgrade to the Soul EV, with increased driving range.
Kia is also expected to release a Tucson-based fuel cell electric vehicle within 2 years.