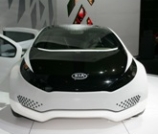 DAILY - UPDATED
KIA NEWS
&
SPY SHOTS
REVIEWS
SALES REPORTS

Kia Developing EVs, Plug-In Hybrid Cars And Fuel Cell Vehicles
Kia will be taking the electric vehicle global next year by introducing the Soul EV 5-door hatchback in Europe and North America.
Despite this move, the Koreans are still playing it safe when it comes to low-carbon forms of transport.
Kia has officially announced that the Soul EV will land in the aforementioned market in the second half of next year.
The car is expected to be able to travel 120 miles on a single charge, and will have a top speed of around 90 mph.
Kia has not revealed any pricing details as of yet, but the expectation is that the EV will be competitive with the likes of similar cars produced by Nissan, BMW, Tesla, and Mitsubishi.
Life Expectancy Of The Car Battery
Chee No Park, team leader of Kia's battery engineering and design team at the company's Namyang R&D center outside Seoul, spoke to the media and explained that the life expectancy of the car battery will be in the region of 10 years or roughly 99,420 miles.
This addresses consumer concerns about the potentially high costs associated with battery replacement.
Renault have combatted this issue by adopting a battery leasing program, which is something that Park says Kia would be willing to try if consumers are not responsive to the idea of buying the battery as part of the car.
Park stated that the company is looking at a number of different options concerning the battery, and are refusing to rule out anything at this point.
Part of the research being done by Kia also involves finding out what to do with end of life batteries.
Those batteries that are no longer useful in cars can still hold as much as 60% of their energy capacity.
He revealed that the battery used in the EV will have a storage capacity that is 40% more than the likes of the Nissan Leaf.
Kia believes that when the batteries lose the power required for use in a vehicle, they may still be able to be used to provide power in the home.
Ray EV, Kia's First Electric Car
The Soul EV marks the second foray into the electric car market for Kia, with the first being the Ray, which was released back in 2011.
That particular model was not made available outside of South Korea, but it made news by being the first electric car built on the same production line as the petrol model.
A number of government agencies have been actively testing the Ray, with the data compiled used in the design and manufacture of the upcoming Soul EV.
Plug-In Hybrid Kia In The Works!
Park also revealed that a plug-in hybrid model is also in the works, although he refused to give any details about that particular project.
He also dismissed the idea that Kia was looking to produce a diesel-hybrid vehicle, which is actually something that a number of other automakers have committed to.
Park did admit that he agreed with Tony Whitehorn, chief executive of Kia's sister company Hyundai, who has already stated that many of the current green trends in the industry are short term fixes, whereas hydrogen fuel cells are likely to be the dominant clean fuel alternative moving forward.
While Park is in agreement that hydrogen fuel cell vehicles are the way forward, he also admitted that they are not really a viable option until the infrastructure is in place that would allow the public access to charging stations.
Hyundai expects to have 1,000 of their ix35 hydrogen fuel cell vehicles on the road by 2015. That particular car is expected to be able to travel approximately 370 miles on a full charge, with water vapor being all that it emits.
Toyota looks to be the biggest rival to Hyundai, as they have their own fuel cell vehicle slated for the same time period.
Fuel Cell Powered Kia Vehicle Coming In 2015?
Kia has also been hard at work in this area, having already displayed a demonstration FCEV called the Mohave back in 2009, with the vehicle able to travel 450 miles on a full charge, and at a top speed of 99 mph.
Park believes that the production timelines are on a par with Hyundai's.
He believes that Kia will be ready for small-scale production by 2015, with mass production coming a mere 5 years after that.
There are no real production plans beyond that, as Kia still want to see how the infrastructure side of things will play out before fully committing.
It is estimated that the average cost of a hydrogen refueling station will come in at upwards of $1 million per station. It's no real surprise then that the only stations in place at the moment are those that serve industrial and delivery vehicles.
If those costs are accurate, the plan of having 20,000 active stations by 2015 looks pretty unlikely to happen.
That has not stopped Kia from moving forward in partnership with other manufacturers to develop infrastructure via the Clean Energy Partnership.
To this point, Germany and 4 other countries have signed on as part of an agreement that will see them adopt fuel cell vehicle fleets as part of a wide reaching testing program.
Improving Efficiency Of Gas-Powered Cars
Kia is also at work in trying to improve the efficiency of internal combustion engine cars.
The construction of their $45 million wind tunnel in Namyang has helped them reduce fuel consumption by 10%.
Success stories include the Kia Rio diesel (with 1,1L CRDI engine), which is said to be 41% more efficient than the 1.5 diesel used in the outgoing model designed in 2005.
The Kia Picanto is another winner, as it emits 5.4% less CO2 than the previous model.
The Kia Optima is also a success, showing an almost 8% improvement in fuel economy, as well as 7% less CO2 emissions that the previous model.
While those improvements are very much applauded by environmentalists, they will still be hoping that advancements on electric and fuel cell technologies will help make the internal combustion engine a thing of the past.