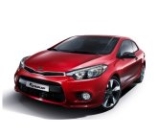 DAILY - UPDATED
KIA NEWS
&
SPY SHOTS
REVIEWS
SALES REPORTS

Kia Cerato Koup Turbo Release Date Announced
Kia is going after a whole new audience (in Australia) with the release of a pair of turbocharged, high performance-oriented models in the coming months.
The cars in question are the Kia Cerato Koup turbo (sold as Forte Koup SX in the USA) and the Pro_cee'd GT.
The goal of the Korean automaker is to broaden their appeal and to get people to think of them as a company that delivers performance derivatives of their popular cars.
Kia Australia's chief operating officer, Tony Barlow, spoke to the automotive media in Australia and told that he believes both vehicles will have a positive effect on the perceived personality that already exists for Kia.
Cerato Koup, Pro_cee'd GT To Follow   
The first car to arrive in showrooms will be the Kia Cerato Koup, a 3-door front-wheel drive that will show up in October.
The coupe will be available with either a 1.6L turbocharged four-cylinder engine (150kW of power at 6000rpm, and 264Nm of torque from 1750-4500rpm) or a naturally aspirated 2.0L four-cylinder engine.
The Kia Pro_cee'd GT, which will be imported from Slovakia, Europe will employ the same 1,6L T-GDI turbocharged engine as used in the Cerato Koup.
The arrival of these two performance vehicles is a sure sign that Kia is taking strides towards the production of more performance-orientated vehicles.
The long rumored GT concept may now very well be the next performance model that goes into production.