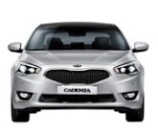 DAILY - UPDATED
KIA NEWS
&
SPY SHOTS
REVIEWS
SALES REPORTS

Kia Cadenza Enjoys U.S. Sales Success
With its North American public release at the beginning of 2013, the Kia Cadenza is celebrating an encouraging start to life in the USA.
Kia Motors America announced last week that sales of the Cadenza full-size luxury sedan passed the 1,000 unit mark for the second time.
That is enough to make its debut in the US market place a successful one.
The Cadenza was introduced to the US in April, with Kia looking to make a dent in the premium car market.
The number of Cadenza's sold during the month of July reached 1,627 units, giving it a total of 3,155 units sold year to date.
Cadenza Sales In The USA
May 2013 …… 466 units
June 2013 ….. 1,001 units
July 2013 ….. 1,625 units
August … 1,677 units
September … 926 units
October … 1,111 units
November … 913 units
December … 844 units
July 2013 Kia Sales – USA
All told, Kia sold 49,004 vehicles during the month of July, giving them a 1.9% increase over the 48,074 units they sold during the same period last year.
The Optima was once again the best seller for Kia, making it their top vehicle for the 20th consecutive month. It sold 13,752 units, up from the 13,317 sold in July 2012.
Ahn Byung-mo, CEO of Kia Motors America, posted a statement on the Kia website saying that the awareness of the newest Kia products is on the rise, as is their reputation as an automaker that delivers more style and features for the money.
The carmaker's US sales are expected to post strong gains as Kia has already announced plans to have seven all-new or significantly redesigned vehicles arrive during the course of 2013.