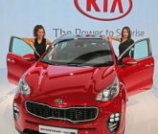 DAILY - UPDATED
KIA NEWS
&
SPY SHOTS
REVIEWS
SALES REPORTS

4 Kia Premieres At The 2015 Frankfurt Motor Show
The Frankfurt Motor Show has begun, and all the major players are in town to show off their new models.
Kia is no exception, as they have 4 major premieres to show off to visitors:
We will go into greater detail about all of these in later articles, but for now, let's take a quick look at the highlights of each:
All-new Kia Sportage
The compact SUV market is one of the fastest growing in the world, which is why Kia is upping the ante with the release of the 4th-generation Sportage.
The exterior design is different than what we are used to with the Sportage, and Kia has gone decidedly upscale by using high quality materials in the cabin.
For those looking for something a little sportier in an SUV, Kia Motors Europe will be introducing a GT version of the Sportage, which is sure to be a big hit with those who want a little sporty punch and extra power.
European customers will be able to get their hands on the new Sportage in the early part of 2016.
All-new Kia Optima
Kia is showing off the European-spec model in Frankfurt, and will be looking to entice customers to the Kia brand with a great looking new design inside and out.
Upgrades are everywhere, from the use of materials to the engines and technology used in the car.
The Optima family will also be growing in the future, with a GT version and a completely new body style inspired by the Sportspace concept expected to come at a later date.
The standard version of the Optima will be available to customers before the year comes to a close.
Kia cee'd facelift
The cee'd has been an unparalleled success for Kia in Europe, having surpassed one million units sold.
Kia engineers have gone all out to make sure that this is a vehicle that will appeal to a wide variety of European buyers.
There have numerous changes made to the exterior and interior of the vehicle, but it is the improved engine line-up that is sure to be exciting to consumers.
Included in the mix is the new 1.0-liter ecoTurbo engine, which we will touch upon a little more in a moment.
A new GT model will be added to the cee'd line, and will be available in every body style that the vehicle comes in.
The upgraded model, including the GT's, are now available in Europe.
1.0-liter ecoTurbo engine
It's not just cars that are on display in Frankfurt, as automakers use this opportunity to also show off new technology and engine improvements.
Kia is committed to downsizing all of their engines in order to deliver better performance and fuel economy, and the 1.0-liter ecoTurbo shows just how far they have come.
While fuel economy is a huge factor, this engine, which is found in the upgraded cee'd, also makes sure that performance is still delivered with those fuel pump savings.