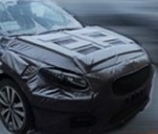 DAILY - UPDATED
KIA NEWS
&
SPY SHOTS
REVIEWS
SALES REPORTS

New Kia K4 Sedan Spied Testing – Spy Shots
Kia are hard at work creating an all-new K4 mid-size sedan that is expected to be officially unveiled at the Beijing Auto Show in April.
Heavily camouflaged K4 prototype spy shots have surfaced to the web as the vehicle undergoes the final testing stages in China.
The 4-door sedan will be made available in China sometime before the end of the year and will be based on the same platform as the relatively new Hyundai Mistra.
Hyundai created the Mistra 4-door sedan as a "China exclusive" model, with the car designed and manufactured there and made specifically to meet the needs of the Chinese consumers.
Those same rules will apply to the Kia K4, which will fill the gap between the existing K3 (Forte) and K5 (Optima).
As far as styling goes, the K4 borrows a number of design elements from the Kia Horki-1 concept that was shown off at Auto China in Shanghai last year.
The car will come with a pair of 4-cylinder engines to choose from: a 1.8L that delivers 146-horsepower and a 2.0L that kicks out 162 horsepower. The consumers will have the option to mate either of those to a 6-speed manual or 6-speed automatic transmission.
Once 2015 rolls around, Kia is also expected to make the K4 available with a 1.6L turbo engine that delivers 204 horsepower and 265 nm of torque. [Source: icarreview]
Kia K4 Spy Shots