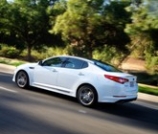 DAILY - UPDATED
KIA NEWS
&
SPY SHOTS
REVIEWS
SALES REPORTS

Inside Look: Kia Optima SX Limited
The SX L (Limited) is the new top of the range trim level of the highly-popular 2013 Kia Optima mid-size sedan.
The all new Kia Optima Limited is based on the fully loaded turbo-charged Optima SX.
Under the hood, the SX Limited model hides a 2,0L four-cylinder turbo engine with gasoline direct injection technology. Mated to the six-speed automatic transmission, the 2,0L "Nu" engine generates 274 horsepower and 269 lb.-ft.
What sets the new SX Limited apart from other Optima models are the standard exterior and interior features which enhance the looks of the car and give it a more premium feel.
The exterior of the Kia Optima SX L boasts a plethora of unique features such as LED daytime driving lights, chrome accenting on the lower door sills and rear spoiler, 18-inch  chrome wheels and red painted front brake calipers.
The model also offers a choice of three exclusive exterior colors: the Titanium Pearl Metallic, Snow White and Ebony Black.
Optima Limited Edition interior
nicer black cloth on the headliner and pillars and unique woodgrain accents. The two-tone white-over-black color scheme of my test car looked great.
The interior of the Kia Optima SX Limited adds higher-grade Nappa leather seating trim (white or black color), nicer black cloth on the headliner and pillars, as well as unique woodgrain accents on the steering wheel and shift knob.
Kia Optima Limited, which carries a sticker price of $34,900, has been released at the 2012 Chicago Auto Show and is already available at your local Kia store!
2013 Kia Optima SX Limted Review
With the 2013 Kia Optima Hybrid set to arrive with an even better fuel efficiency, performance, cargo space, and premium features included.
Read About – 2013 Optima Hybrid