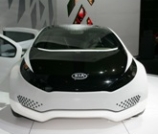 DAILY - UPDATED
KIA NEWS
&
SPY SHOTS
REVIEWS
SALES REPORTS

Hyundai, Kia Target No. 2 Slot In Eco Vehicle Sales By 2020
Hyundai and Kia have had some issues with overstating gas mileage numbers in recent years, but that's not stopping them from going ahead with ambitious green car plans.
The sister companies are shooting for the global number two spot in the green vehicle market by 2020, with Toyota still expected to be leading the way.
In order to achieve that goal, they will need to triple the 7 green cars in their line-up by that date, according to a Reuters report.
Expected among the new Kia and Hyundai eco-friendly cars are 12 new hybrids, with small cars and utility vehicles getting the new gasoline-electric powertrains.
U.S. & Korean Market
As far as the US market goes, the only hybrid models currently being offered by the Koreans are the Hyundai Sonata and the Kia Optima, with a refresh expected for both in the 2016 model year.
In their home market, Hyundai offer the Grandeur, while the Kia has the K7, both of which are large sedans.
Both of these models are sold in the US as non-hybrid models under thane names of the Hyundai Azera and Kia Cadenza.
New Hybrid-Electric Vehicle
Hyundai is expected to deliver a dedicated hybrid in 2016 or 2017, with the eye on going after the Toyota Prius. This vehicles is expected to have its own nameplate and unique styling.
Kia also plans to launch a similar "stand-alone" hybrid vehicle within the next two years.
Also included in the new roster will be six plug-in hybrids, a pair of hydrogen fuel-cell vehicles, and two battery-electric cars.
Plug-in hybrid versions of the Sonata and Optima will occupy two of those available spots.
The first of the new batch to arrive should be the Sonata plug-in, with its arrival perhaps coming as early as next year in the shape of a 2016 model year.
This would tie in with the introduction of the new styling of the non-hybrid 2015 Sonata.
The Hyundai Tucson Fuel-Cell vehicles is already available in California, although only about 60 of the vehicles are expected to be delivered during the final half of this year.
Hyundai will be looking to take things a little more mainstream in the coming years.
Kia has already released the 2015 Soul EV, and are expected to add a pair of battery-electric compact sedans in the near future.
All Electric Hyundai Elantra, Kia K3 (Forte)
Both carmakers made announcements last month revealing that electric versions of the Hyundai Avante (Elantra) and Kia K3 (Forte) would also be built.
These two vehicles were last updated in 2011 and 2012, respectively, so there is a better than average chance that both electric cars will ride on new platforms.
The announcements came shortly after Hyundai and Kia said that the fuel economy of their vehicles would be increased by 25% to meet with stricter global emissions standards.