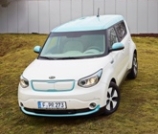 DAILY - UPDATED
KIA NEWS
&
SPY SHOTS
REVIEWS
SALES REPORTS

Hyundai-Kia's Two-Track Approach to Eco Friendly Future Cars
Automakers across the world are taking steps to develop eco-friendly vehicles, but the problem they all face is not knowing which automobile drivetrain technology will eventually rule the day.
There is a definite divide at the moment, with Tesla and Nissan banking that the future will be in electric vehicles, while Toyota and Hyundai have been focusing their zero emissions efforts in fuel cell technology.
Hyundai, along with affiliate Kia, is in the fortunate and enviable position of being able to hedge their bets.
Since no-one can yet say which type of vehicles will dominate going forward, Hyundai-Kia Automotive Group has decided to make things a little easier by pursuing both.
Kia will stick to exploring the electric vehicles, while Hyundai will continue with fuel cell technology.
Despite their obvious affiliation, both Hyundai and Kia have already displayed that they have their own strategies.
Kia has been aggressive in pursuing the electric car option, with the Ray, their first electric battery-powered car, going on sale in Korea in 2011.
They are now taking a more global approach with the all-new Soul EV, which is another step in their goal of becoming one of the top producers of electric cars by 2016.
Hyundai is sticking to their guns with fuel cells, pointing at shorter refill times and longer ranges as the main reasons for doing so.
They have been producing the Tucson fuel cell vehicle since the end of the 2013 and has sold the car all over the world, including in the US.
It's latest entry into the fuel cell world came with the Intrado concept car shown off at the 2014 Geneva Motor Show.
Related Kia News
Along with a range of new Kia electric cars that are expected to hit the streets within the next five years, Kia may also debut one or two electric bikes.
The company has launched two exciting pedelec bikes at the Geneva Auto Show last week. Take a look at some photos of the stylish Kia electric bike duo here.