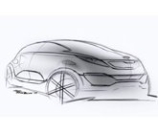 DAILY - UPDATED
KIA NEWS
&
SPY SHOTS
REVIEWS
SALES REPORTS

Peter Schreyer Appointed President Of Hyundai And Kia Design Centers
Stunning vehicle designs have helped Kia and Hyundai see a major boost in sales in recent years, so it may not come as a huge surprise to hear that Peter Schreyer has been announced as Global President of Design Centres for both South Korean manufacturers.
Schreyer was responsible for many of those new designs and his new position makes him the first non-Korean president of both companies.
The ex-Audi designer, who has recently been named the first-non Korean President of the Kia brand, will oversee operations at the Hyundai and Kia design centers across the globe, as well as having a hand in creating all future design languages.
This means that both car brands will take advantage of shared design resources, whilst still being able to maintain their own individual styles that set them apart.
Woong-Chul Yang, Vice Chairman of Hyundai Motor Group's Research and Design Centre in Korea, said that design was just about the aesthetic look of the vehicle, but was also important in people emotionally connect to the car.
The appointment of Schreyer is yet another step that Hyundai-Kia is taking in order to improve their position as one of the world's most successful automakers.
Mong-Koo Chung, Chairman and CEO of Hyundai Motor Group spoke recently about the new mantra of "Brand Innovation based on quality" that is being adopted by both companies.
The design philosophy of recent years has been referred to as 'Fluidic Sculpture" and 'The Simplicity of the Straight Line.'
Kia Motors Corp. introduced "The Simplicity of the Straight Line" back in 2006, while Hyundai Motor Company revealed their curvaceous "Fluidic Sculpture" design philosophy with the release of the Sonata in 2009.
It was Schreyer who was behind the "Simplicity" design, with that look expected to come full circle with the release of the 2013 Kia Carens MPV later this year.