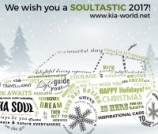 DAILY - UPDATED
KIA NEWS
&
SPY SHOTS
REVIEWS
SALES REPORTS

Kia-World Wishes You All A Happy New Year
It has been another busy year here at Kia World, and we can not believe how quickly it has passed by.
As we look forward to 2017, we would be remiss if we didn't take some time to deliver some thanks and good wishes.
To all the Kia owners, dealerships, and staff, we would like to say thank you for using us as your go to for all things Kia.
The success of the site also wouldn't be possible without all of our regular readers, and we are always delighted to see you return every day.
With all that said, we would love to wish everyone a very happy and an extremely prosperous 2017.
We hope you get everything you wish for, and we'd love to hear about what your dreams and goals are for the New Year!
Kind regards from the Kia-World.net team.