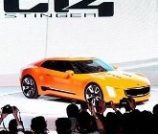 DAILY - UPDATED
KIA NEWS
&
SPY SHOTS
REVIEWS
SALES REPORTS

The GT4 Stinger Would Be A Definite Hit With The Younger Folks
One of the highlights of the North American International Auto Show was the GT4 Stinger that Kia unveiled.
The lightweight concept car gave everyone a glimpse into what may well become that "halo" car for the South Korean brand.
The car was put together at the Kia design studio in Irvine, CA, with designers looking to create a model that was reminiscent of the olden days when sports cars were affordable.
There is a definite shift in the design language here, and there is also no denying that the GT4 pushed the expected boundaries of the performance 2+2 sports model.
Tom Kearns, chief designer, Kia Design Center America, said that the top priority when designing the GT4 Stinger was to deliver driving enjoyment.
The goal was to produce a 2+2 that would be equally at home on the track and the city streets.
He describes the concept car as something of a throwback to the days when driving was a pleasurable experience unimpeded by technology and gadgetry.
It's fair to say that the success of the GTS-class Optima's currently being raced on the Pirelli World Challenge racing series inspired designers to deliver a concept that focused on reducing weight in order to deliver an unencumbered, pure driving experience.
What that meant was doing away with many of the luxury features that are normally placed into concept cars.
When asked about the level of credibility that Kia brings to the table when delivering such a car, Kearns said that you need only look at Kia's racing performance against legendary brands to see that they belong.
Sitting under the beautifully sculpted hood of the GT4 is a tuned version of Kia's 2.0-liter turbocharged gasoline direct injected 4-cylinder engine delivering 315-hp.
The 6-speed manual transmission delivers power to the rear wheels.
Finishing off the sporty look and adding to the performance are Pirelli P-Zeros tires that are tucked neatly beneath the sculpted fenders.
Carbon fibers were added to the center lock inserts of the 20-inch wheels to add strength and reduce weight.
The GT4 delivers incredible stopping power courtesy of Brembo Gran Tourismo two-piece cross-drilled rotors with four-piston calipers. A custom chassis with independent double wishbone suspension is the platform that sits under the glorious Ignition Yellow body of this beautiful car.
Kia is remaining tight-lipped about the future of the car, but there is a lot of speculation that a production model of the Stinger could eventually become available, as it would be a definite hit with the younger market.
Find more news about Kia Stinger here…
Great Video Of The GT4 Concept Car