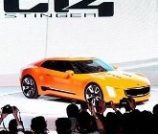 DAILY - UPDATED
KIA NEWS
&
SPY SHOTS
REVIEWS
SALES REPORTS

3 Cool GT4 Stinger Videos From The 2014 Detroit Motor Show
Billed as "the brand's most aggressive concept car ever," the Kia GT4 Stinger finally got unveiled at the Detroit Auto Show.
The car, designed by the same California team that gave us the Track'ster concept car, is sure to be a show favorite, whilst also giving us a little glimpse as to what to expect from Kia moving forward.
A big part of the design process centered on reducing the weight of the car, whilst still delivering functionality and pure driving fun.
Much of that comes from the engine, which is a tuned version of the 2.0-liter 4-cylinder that kicks out 315 horsepower.
The GT4 Stinger is built on a custom chassis that has different dimensions that many other best-selling Kia vehicles.
With 4,310mm in length, it's shorter than the Forte Sedan and wider than the Cadenza.
All told, the Stinger GT4 weighs in at a slight 2,874 pounds and has an almost perfect weight distribution of 52% front and 48% rear.
Designed At Kia's Styling Studio In California
The newest version of the signature Kia grille highlights the front, with LED headlights, and a pair of chrome accent pieces on the hood.
The car also employs transparent A-pillars that give the driver a 270 degree view from the front seat, driver's side.
Satin black accent pieces are used on the cooling ducts for the rear brakes. Also around back, the glass hatch and black-out panel are what truly stand out.
The sporty look and feel carries on into the interior, where red-stitched pull straps, bucket seats, and aluminum pedals are found. The D-shaped steering wheel and sporty instrument cluster add to the look.
Videos Of Kia GT4 Stinger Concept Coupe
First we've got a video from the guys over at Autoguide.com, then there is a cool piece produced by MichelinMedia and finally, the "Detroit Motor Show launching event" video.
There's also a very-interesting "B-roll" video with the GT4 Stinger being filmed at the track.
It's published at Youtube, but you can also watch it here at the Kia-World news! Just follow this link: GT4 Stinger release date.
Enjoy! 😉
1. Autoguide: Kia GT4 Stinger Concept – 2014 Detroit Auto Show
2. MichelinMedia: Kia GT4 Stinger Concept at 2014 NAIAS
3. MorriesAuto: 2015 Kia GT4 Stinger Official Unveiling