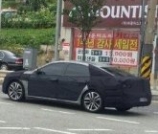 DAILY - UPDATED
KIA NEWS
&
SPY SHOTS
REVIEWS
SALES REPORTS

Kia GT 2.0 Concept Car To Be Unveiled This Year, First Spy Shots?
Not so very long ago, we received an email that showed spy shot of a new mystery prototype being put through its paces in Korea.
The images showed a heavily camouflaged sporty sedan with short front overhangs consistent with a rear wheel drive sedan.
The styling was that of a 4-door coupe, which we already knew was something that the Kia GT sedan was getting.
That all adds up to us believing that the image in the spy shot could indeed be showcasing the production-ready Kia GT sedan.
Spy Photo Of Kia GT?
It has been almost 5 years since the concept model was shown off at the Frankfurt auto show, but these images suggest it may now be close to production.
This is a model that design chief Peter Schreyer has had on his wishlist for a long time now, and market launch rumors have been swirling since 2011.
In a recent interview with CarAdvice, Kia Australia communications manager Kevin Hepworth revealed that the GT design had been under development, and that the vehicle was sporting a look that suggested it was almost ready for production.
The 4-door coupe styling is rumored to remain, but the GT will have many differences from the concept.
The one thing that concept models tend to lack is practicality, which is why changes have to be made when heading to producton.
Expect safety features to be upgraded dramtically, and the carbon fiber elements and rear hinged doors to be replaced.
Details are still pretty sketchy at the moment, but the rumors are that the Kia GT will debut as the revised concept with nearly final design at a major auto show late this year or early next.
The top candidates would be the 2015 LA Auto Show or the 2016 North American International Auto Show in Detroit. (photo: bobaedream.co.kr)