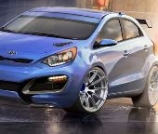 DAILY - UPDATED
KIA NEWS
&
SPY SHOTS
REVIEWS
SALES REPORTS

GT Models Of The Soul, Rio And Forte Under Development At Kia?
The sporty Pro_cee'd GT performance car has just begun hitting the Kia showroom floors across Europe, but the carmaker is already talking about adding more high performance vehicles to their lineup.
The source from within Kia revealed Autoexpress.co.uk that if their first high-performance cars sales went well, the GT badge could start showing up on other cars such as the Rio, Soul and Optima.
If that car (Rio) were to get the high performance treatment it would then go head to head with the likes of the Ford Fiesta ST, VW Polo GTI and Peugeot 208 GTi.
There is little chance the Rio would reach the power level of those three, but with a pricing strategy matching the Pro_cee'd GT, it could seriously undercut them.
The Kia insider revealed that it was much more likely that the GT badge would be spread around than efforts being made to deliver a more extreme version of the Pro_cee'd GT.
That said, it was hinted that the engine may get a boost from the current 1.6-litre T-GDI turbo petrol engine that delivers 204 horsepower output.
Kia has openly admitted that the high performance strategy is more about brand enhancement than actually boosting sales.
If the new Pro_cee'd GT is anything to go by, Kia might just end up becoming the company to really challenge the hot hatch dynasty of Volksagen, Ford and Peugeot.
Note: The image above showcases an artist rendering of the Rio GT. Created by: Virtual Tuning -xanforce-
Related Kia News
Read our review of the new pro_cee'd GT and see some cool photos.