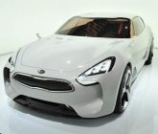 DAILY - UPDATED
KIA NEWS
&
SPY SHOTS
REVIEWS
SALES REPORTS

Production-Ready Kia GT Sedan To Be Released In 2017
By the time 2017 rolls around, Kia should have a production model of the GT concept ready to land in the US.
Edmunds.com has reported that the 4-door coupe will enter the market and go head to head with the likes of the Audi A7, BMW 5 Series Gran Turismo, and the Porsche Panamera.
The original concept model was first unveiled back in 2011 at the Frankfurt Auto Show.
It was a rear-wheel drive vehicle, first for the Kia brand, with a 3.3L turbo V6 engine mated to an 8-speed automatic gearbox under the hood.
That sane powertrain is expected to be found in the production model.
The actual release date is expected to be later in 2016 in the US, with the GT sports sedan also expected to make an appearance in Europe, where a diesel model will likely be offered.
Edmunds did say that the rear-hinged doors found on the concept model would likely not make it into the production model. What drivers can expect us a fastback design and a cabin that is loaded to the gills with electronic systems.
Pricing will be announced closer to the actual release date, but you can expect the GT to land in the $40,000 to $80,000 price range.