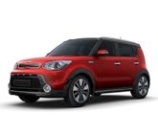 DAILY - UPDATED
KIA NEWS
&
SPY SHOTS
REVIEWS
SALES REPORTS

Frankfurt Auto Show Premieres: Kia KED-10, New Soul, Optima Facelift
The 2013 Frankfurt Auto Show is just around the corner, so let's take a look at all Kia premieres!
The 65th Internationale Automobil-Ausstellung (IAA) in Frankfurt, which kicks off on September 10. will host premieres of the all-new Kia Soul, ptima facelift, KED-10 concept car and Picanto LPG model.
The next-generation Kia Soul has already seen the day of light a while ago, but this it the first time, Kia will put on display the model in Europe.
The 2014 Kia Soul styling stays close to the model's original iconic design, with modern styling cues matched by improved driving dynamics and a range of economical engines.
Inspired by the highly-attractive Track'ster all-wheel-drive concept vehicle, the 2014 Soul is set to go on sale across Europe in spring next year.
New Euro-market Kia Soul will be available with diesel and gasoline engines, but Kia has yet to release the official engine specs and other powertrain details.
We will get a closer look at the 2014 Soul's powertrain line-up, perfomance, fuel economy and pricing details closer to the car's official market release date.
Kia Picanto LPG
The automaker has not released any photos of the new bi-fuel Picanto LPG, but the model will join the Soul crossover at the stage in Frankfurt.
Developed in response to growing customer demand for eco-friendly small cars with low running costs, the Picanto LPG gets power from a 1,0L three-cylinder Kappaengine, which generates 67 horsepower and 90 Nm of torque.
According to Kia's Frankfurt Auto Show press release, the Picanto LPG model will use 5,8L of LPG per 100 km and release only 100 grams of CO2 per km. When equipped with Idle Stop & Go – ISG system, the model will achieve 5.6 l/100 km and 97 g/km of CO2.
The all-new bi-fuel Picanto LPG will first go on sale in countries such as Italy, Germany, Greece and Portugal, while later it may also appear in other European countries.
Sales are expected to commence later this year. The new Picanto LPG will be the first, and only, LPG-powered car in Europe with Kia's standard 7-Year, 150,000 km warranty.
Optima Facelift
The auto event in Frankfurt will host a European premiere of the refreshed Kia Optima mid-size sedan.
As seen before, the 2014 Optima offers a revised exterior, several new infotainment, convenience and safety features, as well as improved quality and increased refinement.
Kia says a wide number of mechanic changes have been implemented during the model's mid-cycle update.
Kia's engineres have made a lot of work to reduce road noise in the new model and improve the fuel efficiency of the model.
A wide number of new mechanical parts have been applied to the car's suspenssion and that resulted in reduced road noise by 3.3 dB.
Kia also says an overrunning alternator decoupler and an innovative battery management system have resulted in improved efficieny of the refreshed Optima and lower CO2 emissions.
The CO2 emissions start from 133 g/km for the 1,7Ldiesel model, and go as low as 128 g/km when fitted with Kia's optional ISG system.
Full details about the Optima changes and improvements will be released on September 10.!
Kia KED-10 Small SUV Concept
The South Korean automaker will also take the wraps off its latest concept car, called KED-10.
The small SUV concept vehicle, which signals Kia's entry into the small crossover vehicle segment, will be one of the most exciting concept cars at the auto show in Frankfurt.
Except of a one teaser image, we have absolutely no details about the exciting concept car at this point. You can see the KED-10 teaser image here.