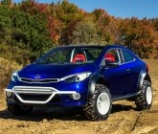 DAILY - UPDATED
KIA NEWS
&
SPY SHOTS
REVIEWS
SALES REPORTS

Kia Forte Koup Turned Into Extreme Off-Roader
Kia Motors America has revealed it plans to put on display four custom-built vehicles at the forth-coming 2015 SEMA.
Among others, the automaker will display a wild Sorento crossover concept, called the PacWest Adventure Sorento, as well as an extreme-looking Forte Koup off roader.
The latter has been first previewed in a teaser shot earlier today.
Called Forte Koup "Mud Bogger", the sporty two-door coupe has been designed to represent the "adventurous American South and the inexplicable joy of getting dirty on four wheels.
The custom-built Forte Koup concept vehicle incorporates a rugged look with a number of all-terrain vehicle modifications.
Perhaps the most impressive of all are the huge 28-inch off-road tires and four-inch body and suspension lift.
The Mud Bogger concept car also features revised side skirts, custom-made fender flares, LED auxiliary lights and large panoramic roof with a vinyl pushback.
Inside, the Kia Koup off-roader concept features a stripped out cabin with two Sparco Evo II Red race seats replacing the stock seats of the standard Forte Koup.
A powder coated roll cage has also been included in the mix.
Completing all the modifications of the 2-door crossover concept is the Line-X protective coating which has replaced the car's standard carpeting.
While Kia hasn't released any official photos of the Koup's interior, they did publish a teaser video revealing how they made this stunning hand-made Koup Mud Bogger.
Kia Koup Mud Bogger teaser video
Other Kia models built exclusively for the upcoming 2015 SEMA
We will cover all 6 vehicles that Kia intends to build for the 2015 SEMA, so stay tuned!