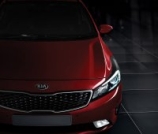 DAILY - UPDATED
KIA NEWS
&
SPY SHOTS
REVIEWS
SALES REPORTS

What is the cost of 2018 Kia Forte in US?
When people go looking for a new car, the idea is generally to strike a balance between good looks and affordability.
This is often easier said than done, as you are often forced to give up one element in favor of the other.
One vehicle that strikes a perfect balance is the 2018 Forte, and it also helps that it delivers up different design options for drivers of all tastes.
Let's take a closer look at what the new Kia Forte is all about.
Available models of 2018 Kia Forte in U.S.
We mentioned options when talking about design, and this Kia model has 3 very good ones to choose from: a 4-door sedan, a 5-door hatchback, and a 2-door coupe.
This is a strategy that appears to have worked very well for the Kia brand, because sales of the Forte family are very much on the rise especially since the line underwent a bit of a refresh last year.
The 4-door sedan and the 5-door hatchback had their overall design tweaked during the refresh, whilst also receiving several powertrain upgrades.
The 2-door Forte Koup remained unchanged at that time, and the information about the vehicle on the official US Kia website is all about the 2016 model year.
This could mean that the Kia Forte Koup has already been slated to be removed from the line-up, which is why we are going to focus on the other two models for the remainder of this blog post.
The good news here is that the changes made to the sedan and hatchback have not led to Kia upping the price in any major way.
This is especially pleasing when you understand that part of the changes made included the addition of several key safety and convenience features.
Let check the latest Forte MSRP details and how much each model costs.
2018 Kia Forte MSRP (U.S.)

| Model | Engine & Gearbox | MSRP |
| --- | --- | --- |
| LX | 2.0L 4 cyl. / 6-sp. automatic | $18,300 |
| EX | 2.0L 4 cyl. / 6-sp. automatic | $22,200 |
| SX | 1.6L turbo / 6-sp. manual | $26,100 |
| SX | 1.6L turbo / 7-sp. DCT | $23,900 |
| Model | Engine & Gearbox | MSRP |
| --- | --- | --- |
| LX | 2.0L 4-cyl. / 6-sp. manual | $16,800 |
| LX | 2.0L 4 cyl. / 6-sp. automatic | $17,900 |
| S | 2.0L 4 cyl. / 6-sp. automatic | $19,400 |
| EX | 2.0L 4 cyl. / 6-sp. automatic | $21,700 |
Conclusion
Last year was a big one for the Forte car family, as they were able to achieve their best year ever in terms of sales success.
With the changes made to the 2018 models of the 4-door sedan and 5-door hatchback, we can only assume that those sales numbers are going to continue to grow.
While it is the new exterior styling of the Forte that is sure to catch the eye, let's not forget that a new base engine and a 7-speed DCT has been added into the mix, which means better performance and fuel efficiency.
New convenience and safety features have also been added, making the Forte the vehicle to beat in its segment.
As you can see from the pricing table that we have included above, this is a vehicle that can easily slide into most new car budgets.
The cost of Kia Forte is all the more impressive when you consider the features that it comes with, which is something that the competition can't touch.
Don't just take our word for it, do a little side by side comparison to get an idea of the value you get when buying this Kia compact car.