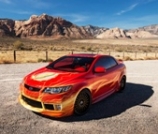 DAILY - UPDATED
KIA NEWS
&
SPY SHOTS
REVIEWS
SALES REPORTS

Custom Kia Cars @ 2012 SEMA
The 2012 Specialty Equipment Market Association (SEMA) Show hits Las Vegas this week, with one of the stars of the show expected to be the collaboration between Kia Motors America (KMA) and DC Entertainment.
On display will be a number of Justice League inspired vehicles that are part of the "We Can Be Heroes" campaign that has been set up to raise money and bring attention to the hunger crisis in the Horn of Africa.
There will be 5 custom Kia cars displayed in all, including the Batman themed Kia Optima that was recently unveiled in New York.
The design of the Optima is inspired directly from the stunning artwork of comic book artist and DC Entertainment co-publisher Jim Lee and the creative minds at Kia and West Coast Customs, with RIDES magazine and Super Street magazine also involved. Visitors to the display will not only get to see the cars, they will also be treated to comic book artwork and life-size characters.
Michael Sprague, executive vice president, marketing & communications, KMA spoke about how the SEMA show was the best place to showcase vehicle customization, which is why they chose that particular event to bring attention to the vehicles and the "We Can Be Heroes" campaign.
He went on to explain that each of the vehicles on display had an attribute that would match it with the member of the Justice character being portrayed. He also said that, just like the super heroes, they were fighting for a great cause.
Amit Desai, SVP of franchise management, DC Entertainment spoke about how happy they were to have joined forces with Kia for the SEMA show and the "We Can Be Heroes" campaign.
He spoke of how excited he was about the prospect of fans seeing the cars that are inspired by their favorite super heroes. He said that fans of the Green Lantern, Aquaman, Cyborg and The Flash will love the way in which their heroes are represented on the cars, but also hopes that the vehicles will help draw attention to the plight of the people in the Horn of Africa.
This is the second straight year in which Kia and West Coast Customs have collaborated to create custom cars. This year's vehicles are The Flash-inspired Forte Koup and the Aquaman-inspired Rio 5-door.
RIDES magazine were responsible for the Batman Optima and the Cyborg-inspired Forte 5-door. Super Street magazine have their fingerprints all over the Green Lantern-inspired Soul.
Find more about Kia SEMA concept cars here.
SEMA 2012 Photo Gallery: