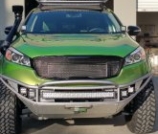 DAILY - UPDATED
KIA NEWS
&
SPY SHOTS
REVIEWS
SALES REPORTS

This Custom Built Kia Sorento Is Extreme Off-Roader
Kia has just announced their plans to officially unveil the PacWest Adventure Sorento at this year's SEMA show in Las Vegas.
Almost all of the major automakers have something to show off at SEMA, and it turns out Kia didn't like the idea of being left out, which is why they came up with the custom built PacWest Adventure Sorento.
It may be a Sorento in name, but it bears very little resemblance to the production model.
There have been a number of additions made that would make this vehicle the perfect ride for anyone looking for a little off-road adventure.
The PacWest Adventure Kia Sorento is literally going green with its exterior color, and it is ready for the great outdoors thanks to the addition of an off-road suspension system, skid plates, and a rugged front bumper.
Also included are a black mesh front grille, auxiliary LED bars, and a snorkel, not to mention a set of tires that are made specifically for off-road use.
Kia will be making this beauty available to see for the first time on November 3 at the SEMA motor show.
We will make more details about the vehicle available as we get them.
Kia at 2015 SEMA – teaser video
Click here for more news about Kia…