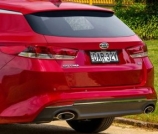 DAILY - UPDATED
KIA NEWS
&
SPY SHOTS
REVIEWS
SALES REPORTS

Cool Renderings Of Kia Optima Wagon Hit The Web
When Kia showed off the Sportspace concept at the Geneva Motor Show earlier this year, people automatically saw it as a potential preview for an estate/wagon version of the 2016 Optima.
Kia were not initially on board with the idea, but after some careful consideration, they decided to go with a production model of the Kia Optima wagon.
We can now get an idea of what that might look like thanks to some cool renders created by Theophilus Chin.
The rendering takes the current US-model 2016 Optima SX turbo and turns it into something totally new.
Kia Optima wagon
The finished piece sticks close to the current design language being used by Kia, which means a more aggressive body kit alongside the now signature tiger nose grille.
Moving beyond the C-pillar, we see a roofline that has been extended to embrace the wagon body style, with a gentle slope down towards the rear hatch.
This creates a third window that is a good deal larger than we are used to.
The design allows for an extension of the chrome element on the front fender and the side windows, running parallel to the roofline of the vehicle.
The hatch in the rear is not as recessed as the sedan, but is still used as a partial host for the wraparound taillight setup.
The lighting has a more conventional style than was seen on the Sportspace concept.
One real element that does remain are the twin exhaust pipes, although they now have a black trim piece in place of the diffuser element found on the sedan.
When launched in Europe in 2016, Kia Optima wagon will have some stiff competition, going against the likes of the VW Passat, Ford Mondeo and Mazda 6 Touring.
We think, based on these renderings, that it can compete, but we would love to know what you guys think! (Source: theophiluschin)