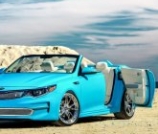 DAILY - UPDATED
KIA NEWS
&
SPY SHOTS
REVIEWS
SALES REPORTS

Cool-Looking A1A Kia Optima Cabrio Is Ready For SEMA
This hot-looking 2016 Kia Optima cabrio comes to life just in time for Halloween SEMA show!
Kia is going to unveil four new custom-built vehicles at the upcoming SEMA next week.
Two of them, the Forte Mud Bogger and Sorento off-roader have already been unveiled earlier this week.
Making a surprise debut today is Kia's third SEMA car, the topless version of the 2016 Optima sedan.
Called A1A Optima, the show car is named after Florida's A1A highway and incorporates a proper SEMA style makeover
The concept car takes the all-new 2016 Optima in a new direction with its cut off roof, shortened windshield and room for four people.
A set of 20-inch chrome alloy wheels are bolted to a Ksport coilover suspension, which dramatically lowers ride height.
The back doors of the A1A Kia Optima swing open on rear-mounted hinges, adding a touch of whimsy and fun while complementing the roadster style.
Soft butter-cream leather bucket seats up front and custom double buckets in back are separated by extended armrests and a custom center console.
The SEMA-bound Optima cabrio is fitted with a powerful 2.0L turbocharged four-cylinder engine generating 245-horsepower.
A high-performance exhaust is also a welcome addition to this striking custom-made Optima show car.
Launch date / premiere
Kia will officially unveil the Optima cabrio, as well as other three concept vehicles, during their press conference on Tuesday, November 3. Stay tuned!
Find more about Kia cars at SEMA here…