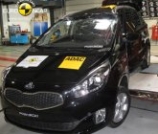 DAILY - UPDATED
KIA NEWS
&
SPY SHOTS
REVIEWS
SALES REPORTS

All New Kia Carens MPV Safety – Detailed Report
Euro NCAP, the top safety organization in Europe, has given a 5-star safety rating to the all-new Kia Carens MPV.
The carens scored big in a number of different categories, including 94% for Adult Occupant Protection, 76% for Child Occupant Protection, 81% for Safety Assist Equipment and 64% for Pedestrian Protection.
The all-new Carens has the distinction of being one of only two compact minivan models to secure the maximum 5-star rating in the 2013 Euro NCAP crash tests.
The Carens achieved maximum scores for side impact protection against a barrier, child protection for 18-month old infants, front seat whiplash protection and protection for pedestrians' legs.
It has also been noted by Euro NCAP that the Kia Carens MPV comes with a belt-up reminder that is available for all the seats in the car.
It also comes with a driver-set adjustable speed limiter and the ability to handle all different types of child restraints.
Kia Carens Front Impact
During the frontal impact, the passenger compartment remained stable.
The knees and femur protection lifted from the dummy reading showed that driver and passenger were well protected.
The good scores were shown to be consistent with occupants of all different sizes and body positions.
Side Barrier Test
Kia Carens received maximum points for the side barrier test, delivering a good level of protection for all areas of the body.
The side pole test is one of the most severe of the tests performed. Readings from the test dummies showed a marginal level of protection for the chest.
In the rear-end collision tests, a good level of whiplash protection was offered by the seat and head restraints.
Dynamic tests performed using the test dummies delivered maximum protection points for the one and a half year dummy.
Rearward-facing child restraints can be used in the Carens by turning off the passenger airbag function.
It is clearly displayed when the system is off, which scored big points with the testers.
Maximum Points For Pedestrian Protection
Maximum points were awarded for the protection afforded to the legs of pedestrians.
Tests showed that pedestrians struck in the pelvic region by the front edge of the bumper received marginal protection.
The bonnet surface and windscreen offered adequate protection to the head of pedestrians, with the only exception being the stiff windscreen pillars.
The all-new Kia Carens come standard with electronic stability control, which easily met all standards put in place by Euro NCAP.
Seats in the front and rear are fitted with a seatbelt reminders system, as are the third row seats on the 7-seater Carens. The driver-set speed limitation system was also up to standard.
Related Kia Carens Crash Test News
You can watch how well performed the all-new Kia Carens minivan during the EuroNCAP's crash tests here.