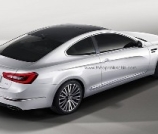 DAILY - UPDATED
KIA NEWS
&
SPY SHOTS
REVIEWS
SALES REPORTS

Kia Cadenza Coupe Image Renderings At The Theophiluschin.com
It was already announced that the just-recently unveiled Kia Cadenza premium model, which made its public premiere at the 2013 Detroit Auto Show last week, will only be available as a 4-door sedan.
But that hasn't stopped Kia fans and enthusiasts around the world from dreaming about the possible Cadenza derivatives, such as the Cadenza Sporty Wagon or Cadenza Coupe.
Medium-sized wagon-type vehicles only sell well in Europe, where Kia Cadenza won't be available, so it is highly unlikely that the South Korean carmaker would want to spend large amounts of hard-earned cash on its development.
More possible, although also very unlikely (due to low volume sales), would be the Cadenza based two-door coupe.
Kia Motors could sell the two-door Cadenza coupe as a "hallo" car, which would further help to improve the brand's image among consumers worldwide.
What would a new Kia Cadenza Coupe look like?
Theophilus Chin from Kuala Lumpur, Malaysia released two rendering images of a Cadenza-based two door coupe which showcase how the model could look like.
Head over to his personal blog to see some high-quality renderings of the Cadenza Coupe and other Kia models.
Among others, Theophilus also rendered Kia Forte Koup, Kia Kalahari Pick Up Truck, Optima Sporty Wagon and Forte Koup Cabriolet. [Source: Theophiluschin.com]