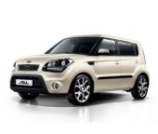 DAILY - UPDATED
KIA NEWS
&
SPY SHOTS
REVIEWS
SALES REPORTS

How To Buy A Kia Soul Or Any Other New Or Used Car
Purchasing a Kia Soul, or any other car for that matter, is usually equal parts exciting and frightening.
You need to be sure that you have chosen the right dealership and made the perfect decision on which vehicle best suits your needs.
One of the best ways to ensure that the buying process is painless is to make sure you go to the dealership armed with as much knowledge as possible.
If you don't, you can end making the wrong decisions and end up paying more than you need to. The good news is that all the information you need to buy a new Kia can be found online.
The first step is to find out all that you can about the Kia you want.
That means deciding which model you would like and then settling on everything from the color to the accessories and price.
Websites like Edmunds.com and cars.com can deliver all the info you need.
New Kia Car Incentives, Financing
Check to see if there are any incentives available before you buy.

Those may be rebates that you can use as a buyer, as well as hidden rebates that go to the dealer, both of which can help lower the price you will pay.
Check auto buying research websites for up to date information about rebates and incentives.
If you don't take the time to try and look for them, you might never find out they exist, as car salespeople tend to be a little tight-lipped about them.
Once you know exactly which Kia model you want, try to find an average sales price.
We are not talking about the MSRP here, but rather the amount that customers are actually paying.
Try to get financing for your new Kia in place before you head to the dealership.
One of the most annoying parts about buying is the seemingly endless back and forth in price negotiation. That will be removed if you have financing in place.
Visit You Local Kia Dealer
The Kia dealership can help you track down finance companies or you can also try Kia financing.
There are a couple of different options available to you when it comes time for a price quote.
You can contact the dealership directly or get the information via the internet or phone.
Go to the dealership website and pick out the exact vehicle that you want. Most good auto dealers will have their entire inventory listed on their website.
Make an offer for the vehicle you want, but be sure that the price you offer is more than the true cost to the dealer once incentives have been taken into account.
You should also factor in any fees that the dealer might try to tack on to the price, such as upgrades, documentation fees and the like.
You might even consider making an offer that is inclusive of all those fees, but be prepared to budge a little as the dealer will likely come back with a counter-offer.
Have a price in mind that you are willing to spend and do not go over it, even if that means walking away from the Kia car you want.