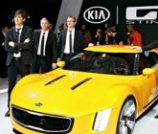 DAILY - UPDATED
KIA NEWS
&
SPY SHOTS
REVIEWS
SALES REPORTS

Should Kia Build The GT4 Stinger Coupe? YES or NO?
Kia has built an incredibly solid reputation of delivering quality, affordable car, but not really anything that would really set the heart racing.
That has all changed with the GT4 Stinger concept coupe that they have on display at the Detroit Motor Show.
This is a car that looks fast even before the engine is revved. It has an aggressive stance and a flared design that make it look as though its ready to blast off the starting line.
The 20-inch wheels complete the spoting look, but the Stinger is a concept that also contains a number of functional elements. That includes brake cooling ducts by the front door that routes cooling air onto the brake rotor venting fins.
That said, one of the most noticeable design pieces are the vertical headlamps, which would likely have a hard time getting approved for road use.
One thing that is also interesting is the size and scale of the GT Stinger.
The sports car concept is a touch over 170 inches long and has a total weight of around 2,874 pounds.
We say that it's interesting, because listing such things is not usually something that is done for a concept car that will dispappear after an auto show.
It doesn't mean that the Stinger will become a production model as is, but it could be a definite glimpse into what Kia has in store for the future.
The Stinger rests on a custom chassis, which is too expensive to be put into production, but the car would fit very nicely on the rear-wheel drive platform currently used by sister company Hyundai on the Genesis Coupe.
Share Your Thoughts About The GT4 Stinger Production!
Let us hear your thoughts about the Stinger GT4! You all seem to like it as a concept car, but should it be brought to production?