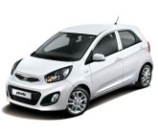 DAILY - UPDATED
KIA NEWS
&
SPY SHOTS
REVIEWS
SALES REPORTS

Best-Selling Brand & Model In Israel: Hyundai, Picanto
The Kia Picanto (sold as Kia Morning in Korea) became the best-selling car in Israel in July, according to latest sales figures released earlier this week.
The South Korean automaker continues their popularity increase in the state by moving 1,213 units of the Picanto mini-car, knocking off the Ford Focus, which sold 1,138 units.
The numbers were out together by the Israel Vehicle Importers Association and represented the first time that the Picanto claimed the top spot in Israel.
Kia has been on a tear this year, selling 5,554 Picantos during the first 7 months. Compare that to all of 2012 when they sold a total of 5,529 units.
A Kia official said that the company will do all they can to continue growing in Israel.
Israel Top-Sellers – Hyundai, Kia
The popularity of the Picanto led to other Kia vehicles seeing sales increases.
The automaker sold a total of 12,749 units in the first 7 months of the year, a 4.2% increase over the previous year.
Kia was a little off the pace of the numbers set by sister company Hyundai, who were able to sell 22,898 units so far this year.
That was enough for Hyundai to hold on to the top spot they took from Mazda back in 2011.
The Japanese automakers had held top spot for 15 consecutive years in Israel before finally being toppled by Hyundai.
The combined market share for Kia and Hyundai came in at 26.3% in Israel, which translates to one in ever four cars sold in the country being from one of the Korean automakers.
Related Kia Sales News
1. Kia US sales figures for the month of July 2013!
2. Kia Canada sales figures – Rio subcompact car leads July 2013 sales!
3. Kia UK announces record July sales!
4. Report: Kia Cadenza sales in USA!