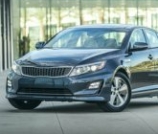 DAILY - UPDATED
KIA NEWS
&
SPY SHOTS
REVIEWS
SALES REPORTS

Best Hybrid Car Lease Deals In December, Optima Hybrid Included
List of top U.S. hybrid car lease deals for December…
There are a variety of different reasons for wanting to make the switch to a green form of transport.
For some it all about saving time, while others are more concerned with the environment and their carbon footprint.
Whatever the case, we are now living in a time where there are more hybrid car options than ever before.
Let's take a look at what is available right now, and what sort of deal you can hope to get with each vehicle:
2015 Kia Optima Hybrid
Call us biased if you must, but the Optima hybrid car always lands at the top of our list.
You can now get a 39-month lease on a 2015 Optima Hybrid for just $209 per month, which is about $28 per month less than what you would pay for the 2016 Camry Hybrid LE.
You don't lose anything by going with the 2015 model here year, and you also end up paying about $500 less at sign-up because you go with the 2015.
For just $1,499 down, you get a hybrid car that looks great, and which delivers 36/40/38 mpg city/highway/combined.
2015 Toyota Prius C
We cannot deny that the Prius is the king of the hybrids right now, and you can get behind the wheel of one for a relatively small amount of money.
You will be required to put down $1,999 for a 36-month lease, but that gets you a monthly payment of just $159, which is incredibly manageable.
You can also expect to get 53/46/50 mpg city/highway/combined.
2016 Ford Fusion Hybrid
If you are looking for a 2016 model year hybrid, you can get a pretty solid deal on the Ford Fusion.
Ford requires $2,509 at signing, but then have monthly payments as low as $169 for 36 months.
The fuel economy comes in at 44/41/42 city/highway combined, although you are only allowed 10,500 miles per year as opposed to the 12,000 miles offered by Kia and Toyota on their aforementioned hybrid models.
2016 Chevrolet Volt
We are moving away from the hybrid models and into plug-in territory with this one.
The 2016 Volt is a tougher one to find, as it is only available in a few states right now.
Non-GM owners do not have to pay anything at signing, and can have the car on lease for as low as $299 per month for 39 months.
You can expect to get a combined range up to 106 MPGe.
2015 Ford C-Max Energi
A little more affordable for those looking to go the plug-in hybrid route. Lease payments start at $159 per month for 36 months, although you will have to pay $3,129 at signing.
The EPA ratings on this one come in at 95/81/88 MPGe city/highway/combined, which are still pretty solid numbers.
Electric car deals
There are also some good deals to be found on battery electric models, with the 2015 Fiat 500e, the 2016 Volkswagen e-Golf, and the 2015 BMW i3 offering vehicles at various ends of the affordability spectrum.