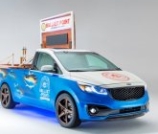 DAILY - UPDATED
KIA NEWS
&
SPY SHOTS
REVIEWS
SALES REPORTS

Best Mobile Bar At SEMA, The Ballast Point Kia Sedona
Visitors to SEMA show are used to seeing cars that have been heavily modified, but Kia have taken that to the extreme with the Ballast Point Sedona minivan.
While we would never advocate drinking and driving, you don't need to drive to get to the bar with this vehicle.
The inspiration comes from Ballast Point Brewing & Spirits, who make premium, handcrafted beers that look as good as they taste.
The Ballast Point Sedona is certainly all about looks, taking on the nautical theme projected by the brewery.
You will find a flip-top roof and fold-down bar within the solid mahogany shell.
The roof of the car had to be taken out completely to make way for a boxed-steel frame sturdy enough to hand the wood-clam shell top that opens to a full 90 degrees.
Only one of the two sliding doors remains operational, and is there to allow the bartender to gain access to the interior.
Those looking for a beverage can belly up to the bar at the rear of the vehicle in the area of the tailgate.
The passenger compartment has been stripped bare to make way for a pair of Micro Matic taps, over 120-feet of copper coils that cool the beer, and as many as 4 half-kegs of Ballast Point's signature brews.
Extra kegs and supplies can be found in the space that used to hold the front passenger seat.
The good folks at LGE-CTS Motorsports were responsible for the build and paint job on the car, with the colors used the same as those found on the Ballast Point beer labels.
You certainly won't see the Ballast Point Sedona cruising the highways, but it is a drivable vehicle that has custom built airbags included that have been designed to take into account the weight of the kegs.
Custom cabinets have been added to the interior for extra storage, and the lining of the floor is such that is can handle good hosing down come cleaning time.
A hidden tank holds meltwater from the jockey box, and the stainless steel serving counters are restaurant quality.
The wooden roof of the vehicle has built-in speakers included so that those enjoying a frothy brew can also enjoy some tunes.
What Happens To This Vehicle After SEMA?
Once the 2014 SEMA show ends, the Sedona will be put into service as a marketing display vehicle for Ballast Point.
It will be on display in a number of different locations next year, but when it's not on the road, it will be serving up beers at the brewery's flagship tap room and restaurant in San Diego.