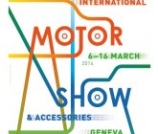 DAILY - UPDATED
KIA NEWS
&
SPY SHOTS
REVIEWS
SALES REPORTS

New Kia Automobiles At The 2014 Geneva Auto Show
Europeans will get their first look at the new Soul EV when it is unveiled at the 84th Salon International de l'Automobile in Geneva on 4 March 2014.
Kia will also have a technology exhibit set up, where visitors can get a close up look at their latest hybrid powertrain technology.
Also on display will be the Optima Hybrid, and enhanced version of the Kia Sportage, as well as the GT4 Stinger concept car that debuted at the Detroit Motor Show earlier in 2014.
It may be a new version of the Soul, but the EV model boasts the same iconic design as the second-generation Soul crossover vehicle released last year.
The major difference, of course, is that the EV is all-electric, which will become a first for Kia when it hits the global market later this year.
The 2015 Kia Soul electric vehicle comes as a front-wheel drive that holds a high-capacity 27 kWh lithium-ion polymer battery pack and class-leading 200 Wh/kg battery energy density.
Power is sent to the front wheels by an 81.4 kW electric motor producing a generous 285 Nm of torque.
The car is sure to be a big hit with city commuters who will be able to get a range of over 120 miles on a single charge.
Drivers can expect an accomplished ride from the EV, thanks in large part to a revised platform and chassis that deliver a low center of gravity.
The car also features a host of materials that were added to reduce the noise and vibration levels throughout.
A number of new technologies have been included to improve the range and efficiency of the vehicle.
This is achieved by employing a 4-mode regenerative braking system, as well as advances in the way that the cabin is heated and cooled. The latter includes a first of its kind 'driver-only' individual ventilation system.
When it comes to practicality, there will be few electric cars in Europe that will be able to match what the Soul EV delivers.
One of the best of these features will be the placement of the battery, which I such that intrusion into the cabin and luggage space is minimal.
As you might expect from Kia, the warranty is fantastic, coming in at 7 years and 100,000 miles.
Kia's New Hybrid Vehicle Technology
As previously mentioned, Kia's exhibit in Geneva will showcase low-emissions vehicles ready for production, but they will also have a standalone exhibit dedicated to hybrid technology.
This is the result of work done at the automaker's European R&D Center for use with future Kia automobiles.
At the heart of the hybrid-electric drivetrain system is a 48V lead carbon battery connected to an electric motor that helps to deliver more power.
Torque and power also get a boost, as some of the energy from the battery is directed to a supercharger.
In optimum conditions, a car can be powered at low speeds and while cruising by nothing but electric.
The system essentially converts to a zero-emissions stop-start system when the car is stationary, all of which is done silently and with no vibration whatsoever.
The new technology will put Kia in a position to reduce the size and weight of their vehicles by using this system to replace the existing 12V battery.
Visitors to the Detroit Motor Show were the first to see the stunning GT4 Stinger concept vehicle.
The car will now make an appearance in Geneva, and is sure to be a hit among the visitors of the auto show.
The concept car is the brainchild of the Kia design team in California, taking the brand in a whole new direction, with the emphasis squarely on driving enjoyment.
Under the hood of the GT4 is a 315 ps 2.0L turbocharged gasoline direct injection (T-GDi) four-cylinder engine.
The 2+2 sports car looks to put the driver in control, employing a 6-speed manual gearbox and rear wheel drive.
In order to fulfill the dynamic needs of a concept, Kia added an independent double-wishbone suspension, front brake cooling vents, and a high-downforce carbon fiber front splitter.
The now iconic Kia grille is placed low to the ground in the GT4 for maximum engine cooling and cold-air induction performance.
While there has been talk of creating a production model based on this design, Kia has not revealed any concrete plans.
That said, Kia's concept cars usually give more than just a passing hint to the direction they intend to head in.
2014 Sportage Facelift
The competitive European car market and customer feedback prompted Kia to take some serious action.
This comes in the form of the enhanced 2014 Kia Sportage, which visitors to the Geneva show will get to see up close and personal.
The compact crossover gets some minor yet significant tweaks both inside and out, including a completely refreshed cabin design.
A new list of features has been included to be more appealing to the European buyer.
These include a premium sound system, LED rear lamps, FlexSteer system, heated steering wheel and a new 4.2-inch TFT LCD supervision cluster.
We mentioned changes to the cabin, and those actually go deeper than pure aesthetics.
Noise, vibration, and ride harshness have all been greatly diminished thanks to a number of changes in materials and body structure.
The newest version is made in Zilina, Slovakia and is expected to be available in all major European markets in the first half of 2014.
Another automobile that will make its official European premiere in Geneva is the Optima Hybrid car.
There are a number of changes made to the vehicle, including new look bumpers in the front and back, new LED fog lamps, and some cosmetic changes to the tiger nose grille.
The side profile gets an upgrade with a new side-sill and the choice of newly designed 16 and 17-inch alloy wheels.
The upgraded model will feature a "White Package" that can be applied to the interior, which means white upholstery and gloss black accents.
A pair of new exterior colors are also available: Smoky Blue and Aluminum White
The new 2014 Optima Hybrid also comes with an impressive list of new features, such as the third-generation regenerative braking system with greater braking feel and response, a new touchscreen interface specific to the hybrid system and a new (optional) High Tech Pack (incorporating Lane Keep Assist, Blind Spot Detection and Smart Parking Assist systems).
Production for the new Kia Optima Hybrid will begin in Korea later this year.