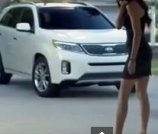 DAILY - UPDATED
KIA NEWS
&
SPY SHOTS
REVIEWS
SALES REPORTS

Sexy Adriana Lima Suggests: For One Month, Let's All Be Futbol Fans
The 2014 FIFA World Cup in Brazil is finally upon us, with the TV viewership numbers expected to be through the roof.
Kia Motors America is doing what they can to be part of the excitement, including the launch of a dual-language campaign called "For One Month, Let's All Be Futbol Fans."
The campaign will feature supermodel Adriana Lima and will encompass a wide variety of advertising mediums.
This is the second time that she has partnered with Kia, with the first being a Super Bowl ad back in 2012. Kia will serve as the pre-game sponsor for games shown on ABC and ESPN.
Kia & Adriana Commercials No.1, 2 & 3

There are a trio of 30-second ads featured in the "For One Month, Let's All Be Football Fans," with Miss Lima using an Optima and a Sorento to drive to places where fans need a little inspiration.
You can check out the ads now at Kia.com/FIFA, where you will find them in English and Spanish.
They will air on TV when the group stages of the tournament begin on June 12. There is also plenty of information about the campaign to be found at all of Kia's social network pages.
Michael Sprague, executive vice president of sales and marketing, KMA, spoke about the incredible surge in popularity of soccer in the US in recent years.
As such, Kia is doing all it can to reach as many of that diverse crowd who are scattered all across the country.
The use of Adriana Lima in the campaign seemed like a natural fit, especially after the positive response that Kia received from her appearance in the aforementioned Super Bowl spot.