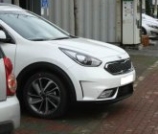 DAILY - UPDATED
KIA NEWS
&
SPY SHOTS
REVIEWS
SALES REPORTS

Kia Receives 2500 Niro Orders In 10 days In Korea
The Kia Niro is now available for sale in Korea, and you can get a great look at it by perusing the pictures we have posted here.
It's a little early in the game to really talk about how well the new Niro will perform in the market, but early indications are that it is going to generate some real interest.
Over the course of the first 10 days, Kia received 2,500 pre-orders for the Niro hybrid.
While that number may not seem spectacular, you have to remember that Korea is a place where the hybrid and all-electric market has yet to be embraced.
White Kia Niro at Korean dealer store
Reports indicate that it is younger male people who are interested in the Kia Niro 2017, as 50% of the orders came from consumers in the 20-30 age range, while 75% were from males.
This is a very solid start for Kia, as they are looking to sell 18,000 units in the domestic market this year, and another 40,000 units worldwide.
Interest in the Niro probably comes due to a couple of key elements, the first of which is that it is expected to have the best fuel economy figures in the country (among the compact SUVs).
It also helps that a government grant for buyers will make the vehicle available for anywhere between $19,300, and $24,000, depending on the model and powertrain being purchased.
This looks as though it is going to be a hybrid vehicle that easily meets the sales projections set by Kia. (photos: bobaedream)