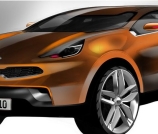 DAILY - UPDATED
KIA NEWS
&
SPY SHOTS
REVIEWS
SALES REPORTS

Kia Trademarks Stonic Name, Could Be Used On Future Small SUV
Dear Kia fans, we have just received exclusive news about Kia trademarking the Stonic name.
The Stonic is believed to be the name of a brand new Kia small SUV, which is scheduled to be officially unveiled later this year.
While there are no available spy pics of the Kia Stonic at this point, our friends from Korea have confirmed us that the new model has been in the works at Kia's R&D center in Korea for quite some time.
It has been developed alongside the new Hyundai small SUV, which has already been spotted testing in different parts of the world.
Stonic and the yet-unnamed Hyundai small SUV will share core powertrain technology, but will feature a significantly different exterior and interior layouts.
It is not known at this point if the models will offer AWD, but we do know that both small SUVs will come available with a range of turbo engines.
Base Kia Stonic model will feature a 1,4L T-GDI engine, while the range-topping model will incorporate a 1,6L T-GDI turbo engine.
In Europe, a 1,6L CRDI diesel engine will also be available.
Kia Stonic release date
We will have to wait a few more months before we see the Stonic SUV hit the Kia showrooms across the world.
The world premiere of the new Kia Stonic is rumored to take place at the upcoming Frankfurt Motor Show in September, while sales could commence shortly after.
The Kia Stonic US release date isn't known yet, but we expect the model to be displayed at the Los Angeles auto show at the end of 2017. (photo: pinterest)