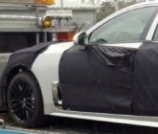 DAILY - UPDATED
KIA NEWS
&
SPY SHOTS
REVIEWS
SALES REPORTS

2018 Kia GT Spied For The First Time (UPDATE)
The long-awaited production version of the Kia GT sports sedan concept has finally hit the ground!
Those of you who remember the Kia GT concept from back in 2011 will likely also remember the talk of a potential production model.
That new model is now in the testing phase, with Kia eyeing a 2018 model year entry.
The production model is obviously not as stylized as the concept, but images shared at Motorgraph.com show a GT that is set to invade the coupe-style 4-door market in a big way.
Update: Kia GT rendering
Even though the GT spy pictures below show the car in camouflage, there are still some cool things to be seen, such as the quad exhaust tips, and intricate styling of the C-pillars, not to mention the chrome finish on the front grille.
The platform that the 2018 Kia GT will ride on is the same as the 2018 Genesis G70 compact sedan.
That means you can expect an RWD model powered by a 3.3-liter turbo V8 that cranks out 389 horsepower.
As far as the transmission goes, it is likely to be the same 8-speed automatic found in the 2017 Genesis G90 sedan.
There is also talk that a hybrid model could be delivered that features an electric motor and a 4-cylinder engine.
Rumor is that Kia will unveil the GT at the 2016 Paris Motor Show, while production will commence in early 2017.
We can expect to see pricing closer to the actual release date, but it's already fair to assume that Kia will deliver the GT at a price that seriously undercuts their German rivals
2018 Kia GT spy pics
Update: Serial mass production is confirmed to commence in May next year…
Photo sources: bobaedream.co.kr, Motorgraph via Brenthon