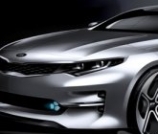 DAILY - UPDATED
KIA NEWS
&
SPY SHOTS
REVIEWS
SALES REPORTS

First Teaser Images Of The 2016 Kia K5 Sedan
The 2010 New York International Auto Show was where the Kia K5 (known as Optima) made its debut, before going on to become the vehicle that helped spark a period of incredible growth for Kia.
The K5 sedan became the best-selling vehicle for the Koreans for 3 straight years (in the USA).
Five years have passed since then, and now Kia is going back to New York to unveil the all-new version of the Optima, which will be shown off at the motor show on Wednesday, April 1.
The automaker is getting consumers ready for the big date by releasing a couple of teaser sketches of the new K5 midsize sedan.
The Sportspace concept served as a preview, and now the official sketches show the potential of the new 2016 Kia K5.
We all know that the actual vehicle will not be as dramatic, since previous spy hosts have shown an evolutionary design concept.
The lower roofline and pronounced wheel arches won't be part of the new design, but the new K5 will still be a real challenge to the Hyundai Sonata, Honda Accord and VW Passat.
The second generation Kia K5 is not only incredibly well designed and built, it will also likely be a little larger if the longer rear doors of the prototype are anything to go by.
There is also a distinct possibility that a wagon version will be released in the next couple of years, with the Sportspace concept vehicle serving as the inspiration.
It is also very likely that Kia are working on a hybrid version with a diesel engine working in combination with an electric motor, much like the set-up seen in the new Optima T-Hybrid concept.
Korean consumers will see an evolved 1.7L CRDi diesel engine, while the US model will come equipped with the same engine lineup 1.6L turbo, 2.0L turbo, and 2.4-liter naturally aspirated – as seen in the Hyundai Sonata sibling.