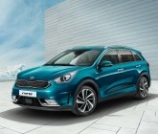 DAILY - UPDATED
KIA NEWS
&
SPY SHOTS
REVIEWS
SALES REPORTS

2016 Geneva Motor Show – Hyundai, Kia Guide
The 2016 Geneva International Motor Show is just around the corner, opening its doors for public on March 3.
This year, the event will host a wide number of premieres including a couple of brand-new vehicles from the Korean carmakers.
The best way not to miss anything from Kia and Hyundai is to keep an eye on this news page throughout the show.
We will keep the page updated with the latest news, rumors, pictures and other highlights from the Kia, Hyundai booths.
Hyundai premieres @ Geneva auto show
1. Hyundai Ioniq hybrid car
We have already seen the Ioniq hybrid car making its worldwide premiere a couple of weeks ago. Set to go on sale during the second half of 2016, the Ioniq will spawn two additional "eco-friendly" versions, making it the first car ever to offer fully electric, hybrid and plug-in hybrid powertrain options in the range.
2. Hyundai Ioniq plug-in hybrid car
The Ioniq plug-in hybrid car is expected to incorporate a larger battery pack than the afore-mentioned hybrid model. Squeezed under the Ioniq's boot floor, the battery enables owners to run the car on electricity for around 50 kilometers, before the gasoline engine kicks in.
3. Hyundai Ioniq all-electric car
Finally, the all electric version of the Ioniq is rumored to have a range of 250 km. The official driving range has yet to be announced. The Ioniq EV goes on sale this fall and will also be available in the US market.
Kia premieres @ Geneva auto show
1. Kia Optima Sportswagon
Kia is going to unveil their first-ever D segment wagon-type vehicle in Europe. Based on the Optima sedan, the new Sportswagon has turned out to be a good-looking and practical family hauler with increased cargo room (553 liters in total). The Optima Sportswagon will offer a choice of gasoline and diesel powertrains, as well as a high-powered GT model.
2. Kia Optima plug-in hybrid
The Chicago Auto Show was the venue that Kia used to unveil the new Optima plug-in hybrid, so it's no real surprise that the Euro-spec model will make its debut at the Geneva Motor Show.
Scheduled to arrive in showrooms in Q4, the Optima PHEV will bear a design that is familiar, but with a few tweaks, such as an active shutter grille and more aerodynamic bumpers.
3. Kia Niro hybrid car
Put on display alongside the Optima Sports wagon and Optima PHEV models will be the Niro hybrid car. The 50 mpg Kia hybrid uses the same powertrain technology as the above-mentioned Hyundai Ioniq. Set to go on sale in the second half of 2016, the Niro will initially be available as a hybrid, while later, the model will also get a plug-in hybrid drivetrain.