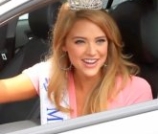 DAILY - UPDATED
KIA NEWS
&
SPY SHOTS
REVIEWS
SALES REPORTS

Miss Georgia Maggie Bridges Drives 2015 Kia Optima SX Turbo
It is easy to look at beauty pageant winners and think that they have a pretty easy time of it, but that is not always the case.
The women who win the right to represent their state in the Miss America pageant usually end up with a calendar that is jam packed full of appointments.
What most people aren't aware of is that they often have to do a lot of traveling across the state during their reign, which can be tough if there isn't a comfortable available to get you around.
The current Miss Georgia has no such concerns, as she has just been presented with the 2015 Kia Optima SX Turbo, which she will use to get her to and from all the appointments she has to fill in the coming months.
Maggie Bridges, the reigning Miss Georgia, was suitably excited when she was handed the keys to the car by Ed Braun, the general manager of Kia Autosport of Columbus, Georgia.
It really is only fitting that someone as beautiful as Miss Georgia should have a car that is equally as appealing to the eye.
The two actually have plenty on common, though, as they have brains as well as beauty.
It takes much more than just a pretty face to win a major pageant, and the new Optima has been winning the hearts of everyone who sees it, thanks in large part to advanced safety and technology features that put it ahead of the pack.
Maggie Bridges and the 2015 Kia Optima are proof that some of the sweetest things really are made in Georgia.