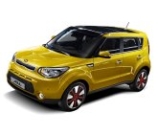 DAILY - UPDATED
KIA NEWS
&
SPY SHOTS
REVIEWS
SALES REPORTS

2014 Soul Exclaim Review
Published below is a great video review of a 2014 Kia Soul Exclaim!
Facts about the Soul crossover vehicle:
Industry types were more than a little dismissive of the Kia Soul when it was first released, claiming that it was nothing more than a rip-off of the Scion xB.
Whether there was any truth to that ended up not really being an issue, as the Soul spoke to the consumers, outselling the xB 6-1.
It has gone on to be a huge seller for Kia, and the 2014 version comes with all kinds of improvements.
Peter Schreyer and his designers have done an admirable job of maintaining the iconic style of the Soul, whilst still making is sleeker and a little more upscale on the inside.
One of the biggest design changes comes in the rear, where the "backpack" bulge on the tailgate has been replaced by a body-colored panel.
On the inside, premium materials have been added to give the car a much more premium feel. There is plenty of space to allow 5 adults to ride comfortably.
Some real cool upgrades can be found on the Exclaim trim level, such as a panoramic roof, heated and cooled leather seats, and a killer Infinity sound system.
The base trim level comes with a 1.6-liter 4-cylinder that delivers 130 hp. MSRP comes in at $15,495. For an extra $3,500, you can move up to the Plus trim that has the more powerful 2-liter, 4-cylinder, with 6-speed automatic and alloy wheels.
The top of the line Exclaim can be taken to all new feature levels with the addition of the Whole Shabang package, giving it a starting price of $26,195.
The Soul has a boxy design that isn't for everyone, but it certainly is a fun ride for those that love the unique styling of the second generation 2014 Kia Soul.
Kia Soul Exclaim Video Review
Watch more video reviews about the all-new Kia Soul here.