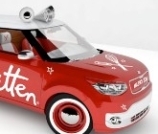 DAILY - UPDATED
KIA NEWS
&
SPY SHOTS
REVIEWS
SALES REPORTS

Kia At 2014 SEMA – Preview
Kia is doing something a little different at SEMA this year, and it looks as though they may be "hungry" for success.
There will be no big horsepower models on display, but they will be showing off beer and ice cream.
Yes, the two concept vehicles they will be showing are a Soul EV ice cream truck and a Sedona minivan that serves up beer.
Smitten Ice Cream Soul EV
Kia is going with 'A Day at the Races' theme for this tear, and they believe the Smitten Ice Cream Soul EV is a perfect fit.
The concept model is intended to make people thinks of the festive atmosphere that you get at the track, with Kia believing that ice cream is the way to create that.
Smitten Ice Cream will provide the icy treats, using liquid nitrogen to create their preservative-free ice cream.
Kia has teased us with a single image of the concept Soul EV.
It comes with sport chrome hubcaps, whitewall tires, and a teardrop custom trailer that can handle a table.
The PA bullhorns attached to the roof will blast out the happy melody of 'Do Your Ears Hang Low?'
Ballast Point Brewing Sedona Bar
The other vehicle that Kia will show off at SEMA is a 2015 Sedona that turns into a bar.
The vehicle is the end result of a collaboration between Kia and the good folks at the Ballast Point Brewing Company out of San Diego.
There are not a lot of details about this particular project, but a short video reveals that the van opens up to reveal a bar-style countertop.
The only other detail that is visible is the aquatic themed wrap that Kia has added to the vehicle.
We will probably find out more about both as the November date of the show draws closer.
Update:
High Performance K900
Kia Motors America has also released the very-first photo of their third vehicle to be displayed at the forthcoming SEMA.
Called "High Performance" K900 luxury sedan, the heavily modified Kia flagship sedan features a custom body kit with several carbon fiber accents, custom-blended gray paint, blacked-out chrome trim and massive 21-inch gloss-black wheels.
See the picture here.
Ultimate Karting Sedona
Kia Motors America has also shown a racing-inspired Sedona minivan, which will also be unveiled at the upcoming SEMA.
Karting is how many of today's top professional race drivers got their start, and this Sedona minivan has been upgraded into the ultimate kart hauler, says KMA.
Painted in a striking red exterior color, the Ultimate Karting Sedona features vinyl graphics and white-painted 20-inch alloy wheels that pay tribute to the championship-winning Kia Racing Optimas.
Atop the minivan is a custom-made kart rack with space for a CRG Bambino kart and a Fiamma F35 Pro Awning, providing much-needed shade while racers turn wrenches or wait for the next round of open-wheel action on the track.
Another kart is carried on a custom-built aluminum cargo trailer which sits on 18-inch wheels.
Take a look at the photo here to see all the details of this highly-attractive Kia Sedona and a trailer in the back.