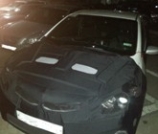 DAILY - UPDATED
KIA NEWS
&
SPY SHOTS
REVIEWS
SALES REPORTS

2014 Kia Forte Koup Spy Shots
We have received exclusive spy shots of the 2014 Kia Forte Koup caught testing in South Korea.
The second generation of the 2014 Kia Forte Koup is almost at the end of the development phase, with the newest prototypes giving a clear indication of the final shape of two-door coupe.
The all-new Forte Koup will make its first public appearance in the second quarter of this year and is scheduled to go on sale in the United States in the latter part of 2013.
As evident from these exclusive spy shots, the design of the new generation Forte Koup is definitely consistent with the newest evolution of the 2014 Forte 4-door sedan, but there are also traces of design used in the new Kia Rio (see the signature grille).
Kia Forte Koup spy photos: