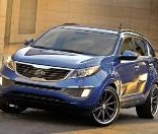 DAILY - UPDATED
KIA NEWS
&
SPY SHOTS
REVIEWS
SALES REPORTS

2013 Sportage SX Gets Award From The Car Book
Th 2013 Kia Sportage has parlayed its dynamic styling, advanced technology, and incredible list of safety features into a 'Best Bet' award from The Car Book 2013.
The information that is used to come up with the 'Best Bet' award is culled from a number of different places, including government and independent sources who rate the car based on the perfromance and safety needs of the average American.
In order to be eligible as a 'Best Bet,' cars must have ratings in a number of key categories: safety features, fuel economy, rollover, front and side crash tests, maintenance and repair costs, warranties, insurance costs, and complaints.
The biggest factor in achieveing the accolade is the crash test performance of the Kia car.
The Car Book is updated every year and is THE guide to go to when buying a new Kia AWD SUV, car or truck.
The book lists everything from updated safety ratings, to delaer prices, insurance premiums, and just about everything you need to make an informed decision. The book is published in cooperation with the Center for Auto Safety.
Michael Sprague, executive vice president of marketing and communications, KMA, said that Kia was very proud to see the 2013 Sportage names as a 'Best Bet' by The Car Book.
He also told that Kia's longest running nameplate offered styling, amenities, and performance that are a must for any good compact CUV.
About the Sportage SX
Latest news: http://www.kia-world.net/sportage-2017/
The 2013 Kia Sportage has a lot to offer, and all at an incredibly affordable price.
The vehicle combines stunning design, state-os-the-art technology, comfort for driver and passengers, fun-to-drive performance, and a list of safety features that few other cars can come close to even matching.
Under the hood there is a choice of either a  2.4-liter, 176 horsepower engine or a 2.0-liter, 260 horsepower Turbo GDI engine.
The interior offers a host of incredible technology offerings such as the UVO infotainment system powered by Microsoft, which is hands-free and voice-activated. The MSRP for the 2013 Sportage starts at just $19,000.