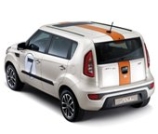 DAILY - UPDATED
KIA NEWS
&
SPY SHOTS
REVIEWS
SALES REPORTS

2013 Kia Quality Improves Significantly
A recent quality survey conducted by J.D. Power saw Hyundai and Kia Motors take 5th spot.
That marks the highest ever ranking by both automakers in the survey put together by the renowned US marketing firm.
A total of 21 carmakers were included in the Initial Quality Study, with the Koreans taking the 5th spot with a total of 106 points.
In order to get the total points, brands and vehicles are rated by counting the number of complaints per 100 vehicles, with 233 different criteria used.
The vehicles in question were those sold between November of last year and February of this. The lower the score, the higher the quality and satisfaction.
Kia quality update: 2014 car quality report highlights Kia Soul and Optima!
An official from Hyundai-Kia Automotive Group said that the high ranking was down to the fact that both Hyundai and Kia have drastically improved the quality of their products.
Kia Soul, Sportage – Quality Leaders
The Hyundai Genesis, Kia Soul and Sportage were segment winners in the midsize premium, small multi-purpose and small SUV segments, respectively.
Hyundai have four other cars rank in the top 3 across a number of different segments.
The Azera, known as the Grandeur, locally, placed second in the large car segment.
The Accent took second in the sub-compact segment, with the Sonata also finishing second in the  midsize segment.
Also placing was the Santa Fe SUV, taking third place in the crossover utility segment.
This is a huge achievement for both automakers and is a sign of just how much the quality of the products they have in the US market have improved.
When up against luxury brands, Hyundai and Kia still combined for 10th, ahead of the likes of Audi and BMW, who took 13th and 18th, respectively.
Hyundai Genesis dropped 6 points from the previous year to score and impressive 86.
A slightly lower quality score was still enough to put it ahead of other luxury sedans such as the Mercedes-Benz E-Class and the Lexus GS.
Car Model & Brands Quality Rankings