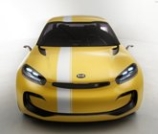 DAILY - UPDATED
KIA NEWS
&
SPY SHOTS
REVIEWS
SALES REPORTS

2013 Kia CUB Concept Pictures, Engine Specs, Release Date Info
Kia Motors Corp. has taken the wraps off its latest concept vehicle, the CUB compact four-door coupe!
Following a teaser image, released earlier this week, the Kia CUB has been unveiled at the 2013 Seoul International Motor Show.
Styled under the guidance of the car design guru Peter Schreyer, the CUB coupe boasts  an eye-catching exterior layout which features several unique design elements, such as  two-point LED head-lights, 19-inch alloys and a set of pillar-less doors.
Up front, the all-new CUB concept car features Kia's latest interpretation of the "tiger-nose" grille, while at rear, the vehicle incorporates stylish LED tail lights.
Completing the sporty look of the CUB coupe is a two-color paint finish with a sporty stripe that hints at the car's high-performance potential.
Kia CUB Picture Gallery
"The new Kia CUB is a compact four-door coupe which was developed with a clear focus on driving performance and practicality. It was designed to appeal to younger buyers who preferr the cool and trendy cars for their every day needs," commented Thomas Oh, Senior Executive Vice President and COO, Kia Motors Corporation
Kia CUB is a 4-seater
With the length of less than 4 meter, the CUB offers four individual seats. The concept car's cabin is trimmed in black leather with yellow colour accents surrounding the non-round steering wheel, door armrests and seats.
The CUB features a minimalist centre stack design with an air vent controlled by touch sensor.
According to Kia, the interior of their concept car also features a driving information system controller, connected to a gesture camera which provides easier operation while driving, as well as an instrument cluster with design inspired by the eyes of a wild animal.
1,6L T-GDI Engine

The CUB concept car shares its platform with the all-new 2016 Kia Soul, which made its official premiere yesterday in New York.
Under the hood, the CUB concept features Kia's latest version of the 1,6L T-GDI turbo engine fitted with a twin-scroll turbocharger.
The 1,6L T-GDI engine delivers 204 horsepower and 265 Nm of maximum torque. In comparison to the non-turbo 1,6L GDI engine, which is available in the cee'd 5-door hatchback, the turbocharged unit generates 51% more power and 60% more torque.
The 1,6L T-GDI turbo engine will soon debut in several high-performance Kia models, including the cee'd GT and pro_cee'd GT. The upgraded hot-hatches are scheduled to go on sale in Europe within a few months.
Release date?
We would love to see the stylish CUB concept car finding its way to local Kia dealerships, but Kia already revealed it has no plans to put the car into a serial mass production.
Stay tuned for more Kia news…
Kia CUB video: